FII bought 33.2 K  contract of Index Future worth 2823 cores, Net OI has decreased by 22.1 K contract 5.5 K Long contract were added by FII and 27.6 K Shorts were covered by FII. Net FII Long Short ratio at 0.39 so FII used rise to enter long and exit short in Index Futures.
As Discussed in Last Analysis  16361 done as Mercury Ingress showed its impast as gap down was bought into, now till we are holding today 16269 we are heading towards 16518/16594. Range of 16518-16534 will be a tricky range with lot of supply coming. For Swing Traders Bulls need to move above 16396 for a move towards 16459/16523/16586. Bears will get active below 16269 for a move towards 16205/16142. All Bullish target done and high made was 16588 at our final target of 16586 and bulls are striggling in 16518-16534 range. Now tommow will be an important day as Jupiter and Saturn are making an aspect as discussed in below video. For Swing Traders Bulls need to move above 16555 for a move towards 16619/16683/16747 Bears will get active below 16459 for a move towards 16394/16330/16266.

Intraday time for reversal can be at 10:29/11:25/12:23/1:50/2:12   How to Find and Trade Intraday Reversal Times
MAX Pain is at 16500 PCR at 1.02 PCR below 0.87 and above 1.3 lead to trending moves, and in between leads to range bound markets.
Nifty July Future Open Interest Volume is at 0.94 Cores with liqudiation of 15.7 Lakh with decrease in cost of carry suggesting Long positions were closed today.
Nifty rollover cost @ 15801  and Rollover @66.1 % Closed above the rollover level suggesting bias is Bullish
Nifty Future have 73 Lakh OI added in range of 15933-15670 price zone out of today 1.19 Cores which is more than 60%  and yesterday we have closed above 15933 suggesting we should see a move towards 16253 and any close above it Bears will be under water and will rally price towards 16500 by next week based on OI data. Closed above 16253 waiting for 16500.
Maximum Call open interest of 48 lakh contracts was seen at 16600 strike, which will act as a crucial resistance level and Maximum PUT open interest of 30 lakh contracts was seen at 16400  strike, which will act as a crucial Support level. There is total OI of 23.2 Cr on the Call side and 33.2 Cr on the Put side. So, the activity is more on PUT side indicating Option Writers are having BULLISH Bias.
FII's bought 1780 cores and DII's sold 230 cores in cash segment.INR closed at 77.95
Retailers have bought 461  K CE contracts and 195 K CE contracts were shorted by them on Put Side Retailers bought 271 K PE contracts and 195 K shorted PE contracts were coveed by them suggesting having BULLISH outlook,On Flip Side FII sold 16.7 K CE contracts and 22.6 K CE were shorted by them, On Put side FII's sold 17.5 K PE and 5.3 K PE were shorted by them suggesting they have a turned to Neutral Bias.
#NIFTY50 READY for another 500 points move in next 4 trading session as per musical octave 16108-16573-17066 take the side and ride the move !!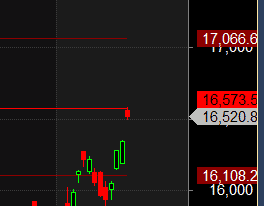 A realization is far from being a newly won habit. If you want to permanently change your behavior, then your brain needs appropriate impulses. This is the only way to create new connections in the neural network that will guarantee long-term and reliable behavior. This happens through repetition and is further accelerated by positive feelings. If you want a stable change in your behavior, you have to reliably repeat a new behavior at least 400 times in a row.
For
Positional Traders
Stay long till we are holding Trend Change Level
16044
and stay short below it. That will help you stay on the side of Institutions and which has a greater risk-reward ratio. For Intraday Traders
16532
will act as a
Intraday Trend Change Level.
Buy Above 16540 Tgt 16576, 16600 and 16630 (Nifty Spot Levels)
Sell Below 16485 Tgt 16444, 16412 and 16385(Nifty Spot Levels)
Upper End of Expiry : 16677
Lower End of Expiry : 16385 
As always I wish you maximum health and trading success