As Discussed in Last Analysis  35729 done as Mercury Ingress showed its impast as gap down was bought into, now till we are holding today 35485 we are heading towards 35738/35937/36234. Range of 35758-35790 will be a tricky range with lot of supply coming.  Bears will get active below 35480 for a move towards 35297/35110.Price has closed exactly at the gann angle. All Bullish target done  Now tommow will be an important day as Jupiter and Saturn are making an aspect as discussed in below video. For Swing Traders Bulls need to move above 36066 for a move towards 36522/36444/36634. Bears will get active below 35802 for a move towards 35612/35421/35231
Intraday time for reversal can be at  10:29/11:25/12:23/1:50/2:12     How to Find and Trade Intraday Reversal Times
Bank Nifty May Future Open Interest Volume is at 20.4 lakh with liquiation of 2.4 Lakh contract , with increase in Cost of Carry suggesting  Long positions were closed today.
Bank Nifty rollover cost @ 33655  and Rollover @80.2 % Closed above it.
Bank Nifty Future have 14.7  Lakh OI added in range of 34598-33500 price zone out of today 20  Lakh which is more than 60%  and yesterday we have made low of 34541 suggesting we should see a move towards 35472-35999  by next week based on OI data.  — 35690 done today waiting for 35999. 35999 done 
Range of 35325-35358 should be watched closely. Its Make or break level for 1000 points Move in Bank Nifty. Price closed below 35325 and 900 points done. — Almost 1000 points done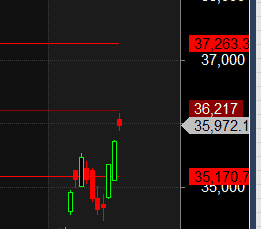 Maximum Call open interest of 22 lakh contracts was seen at 36300 strike, which will act as a crucial resistance level and Maximum PUT open interest of 28 lakh contracts was seen at 35800 strike, which will act as a crucial Support level
MAX Pain is at 35900 and PCR @0.91 . PCR below 0.93 and above 1.3 lead to trending moves, and in between leads to range bound markets.
A realization is far from being a newly won habit. If you want to permanently change your behavior, then your brain needs appropriate impulses. This is the only way to create new connections in the neural network that will guarantee long-term and reliable behavior. This happens through repetition and is further accelerated by positive feelings. If you want a stable change in your behavior, you have to reliably repeat a new behavior at least 400 times in a row.
For
Positional Traders
Trend Change Level is
34748 on Futures
and go long and short above/below it That will help you stay on the side of Institutions and which has a greater risk-reward ratio. For Intraday Traders
36058
will act as a
Intraday Trend Change Level. 
Buy Above 36030 Tgt 36144, 36300 and 36450 (Bank Nifty Spot Levels)
Sell Below 35864 Tgt 35729, 35525 and 35400

(Bank Nifty Spot Levels)
Upper End of Expiry : 36375
Lower End of Expiry : 35740 
As always I wish you maximum health and trading success