FII sold 28.7 K contract of Index Future worth 2407 cores, Net OI has increased by 7.3 K contract 10.7 K Long contract were covered by FII and 18 K Shorts were added by FII. Net FII Long Short ratio at 0.42 so FII used fall to exit long and enter short in Index Futures.
As Discussed in Last Analysis Low made was 16444 today and 16443 om 02 June suggesting we have formed a double bottom as today was Saturn Retrograde and Mercury Declination suggesting till 16444 is held Bulls have upper hand. For Swing Traders Bulls need to move above 16571 for a move towards 16635/16699/16763. Bears will get active below 16507 for a move towards 16443/16385/16323/16214.Tommorow we are completing 90 days from 08 March Bottom we have made.  Nifty opened with gap down and closed below Saturn Retrograde low. We are near the gann angle support and also today was 90 day from 08 March suggesting price time are meeting and we can see strong reversal if we close above 16469 tommrow. For Swing Traders Bulls need to move above 16469 for a move towards 16534/16599/16666. Bears will get active below 16340 for a move towards 16275/16212/16166/16108
RBI Policy outcome will come after 10:30 AM. Once the RBI Governor Stop speaking take position after that only, Till 10:39 AM we can see wild swings.  Saturn is in Retrograde in Aquarius.Interest rates will go up for sure but it remains to be seen by how much.Any hike or any comment which indicates more than anticipated rate might dampen the mood further and could keep our markets in corrective mode. So just keep an eye your postions especially in F & O. However dip should be used to buy as the markets could bounce sharply as Moon goes Declination on 10 June.
Intraday time for reversal can be at 10:11/11:12/12:36/1:13/1:48   How to Find and Trade Intraday Reversal Times
MAX Pain is at 16450 PCR at 0.79 PCR below 0.89 and above 1.3 lead to trending moves, and in between leads to range bound markets.Nifty rollover cost @ 16139and Rollover @69.6 %.
Nifty May Future Open Interest Volume is at 1.12 Cores with addition of 1.3 Lakh with increase in cost of carry suggesting SHORT positions were added today.
Maximum Call open interest of 61 lakh contracts was seen at 16600 strike, which will act as a crucial resistance level and Maximum PUT open interest of 31 lakh contracts was seen at 16300 strike, which will act as a crucial Support level
FII's sold 2397 cores and DII's bought 1940 cores in cash segment.INR closed at 77.77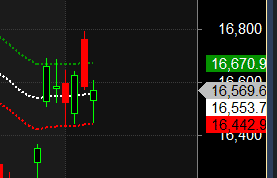 #nifty50
Stuck in the 34 SMA Band of 16670-16442 Break of 16670 heading towards 16898 Break of 16442 heading towards 16214. – Closed below 16442
Retailers have bought 464 K CE contracts and 343 K CE contracts were shorted by them on Put Side Retailers sold 43.9 K PE contracts and 14.3 K shorted PE contracts were covered by them suggesting having BULLISH outlook,On Flip Side FII bought 32.6 K CE contracts and 50.9 K CE were shorted by them, On Put side FII's bought 36.7 K PE and 25.9 K PE were shorted by them suggesting they have a turned to BEARISH Bias.
I know it may sound strange to many readers, but there  is  an  inverse  relationship  between  analysis  and  trading  results.  More analysis  or  being  able  to  make  distinctions  in  the  market's  behaviour  will  not produce  better  trading  results– Mark Douglas
For Positional Traders Stay long till we are holding Trend Change Level 16479 and stay short below it. That will help you stay on the side of Institutions and which has a greater risk-reward ratio. For Intraday Traders 16419 will act as a Intraday Trend Change Level.
Buy Above 16444 Tgt 16470, 16499 and 16529 (Nifty Spot Levels)
Sell Below 16385 Tgt 16350, 16323 and 16276 (Nifty Spot Levels)
As always I wish you maximum health and trading success