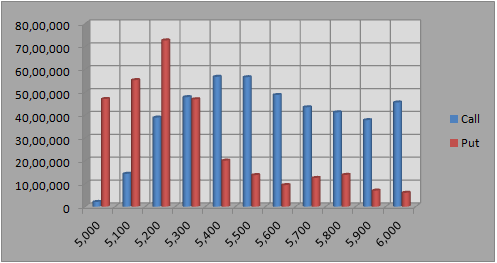 FIIs sold 14078 contracts of Index Future (Entered fresh shorts in 24661 contracts and fresh longs in  10583 Longs) worth 370 cores with net Open Interest increasing by 35244 contracts. So as per data analysis, FII's are still entering in fresh shorts  in NF and BNF,Today we saw the recovery but still rise is used by FII's used the rise to short the index.
Nifty yesterday closed below the Chopad level of 5296 and today market rewarded us with fall till 5166 and made a panic low of 5119  and forming a double bottom on hourly charts before staging a smart recovery. Nifty has taken support near its Fibo Fan as shown in below chart. Tomorrow we have the expiry Nifty has moved almost 866 points in current series, personally i know many traders who are still holding longs from 5800 odd levels so such traders will be forced to liquidate positions tomorrow, also we will have traders carrying short covering up positions so it will be interesting which side dominate and will decide the expiry levels. Last hour will be crucial and wild swings will be the name of game tomorrow so be cautious in your trades.
Nifty Future Aug Open Interest Volume is at 1.77 cores with liquidation of 21.8 lakhs in Open Interest, Rollovers have started and whole 14 lakhs got rollovered and additional 9 lakhs got entered in September series,with negative cost of carry..

Total Future & Option trading volume at  3.6  lakh with total contract traded at 6 lakh , highest in past 2 years,PCR (Put to Call Ratio) at 1.17. VIX closed at 32.38 after making a 2 year high at 36.
5400 Nifty CE  is having highest OI at 56 lakhs with liquidation of 5 lakhs in OI. 5300 CE liquidated 2.9 lakh in OI will be resistance in short term, and 5200 CE added huge 19 lakh in OI  and 5100 CE added huge 12 lakh in OI on one day before expiry suggesting lot of volatility expected . As per Option data OI analysis FII entered long in 8.9 K call options mostly in 5100/5200 CE and 28.8 K contracts in written calls. 5100-5400 CE added 23.4 lakh in OI.

5200 PE OI at 72 lakh remain the highest OI, remains the firm support for time being. 5300 PE liquidated 31 lakh in OI, huge profit booking and panic covering  in written put.5100 PE also added 10.4 lakh in OI suggesting 5100 might be touched once tomorrow if rupee keep rising untamed,  As per Options Data analysis, FII has entered long in 48.3 K ITM PE and also entered 13.8 K in  Put writing.5300-5700 PE liquidated 30.5 lakh  in OI.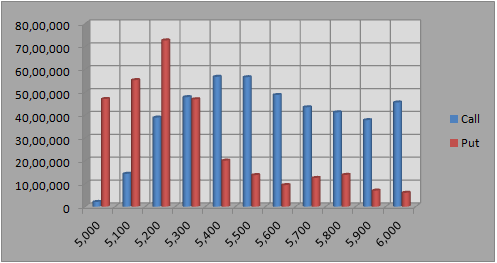 FIIs sold in Equity in tune of 1120 cores ,and DII bought 506 cores in cash segment ,INR closed at 68.78 Rupee hits record low.FII net sold 6698 Cores in cash and DII bought 4496 Cores in August Series till date.India's Rupee Plunges Most in 20 Years to Record. Reasons why the rupee is falling every day
Nifty Futures Trend Deciding level is 5204 (For Intraday Traders). Traders trading based on NF  Trend Changer can book out full profit in NF of more than 500 points 1 Signal (Short) came at 5970 and 2 Signal (Long) came at 5743 which got stopped out and Last signal (Short) came at 5732 . Big money is always made when you sit on your trades.

Buy above 5318 Tgt 5355,5380  and 5400 (Nifty Spot Levels)

Sell below 5274 Tgt 5250,5225 and 5200(Nifty Spot Levels)

Live Nifty A/D charts  Click on the Link

Traders who use Pivot and Camarilla can use the following 2 sites for Hourly values and EOD values

 http://camarillapivotpoints.blogspot.com/
http://niftystockpivot.blogspot.in/
We do discussion in Live market to update Nifty levels If you are interested you can LIKE the page to get Real Time Updates.
Follow on Facebook during Market Hours: http://www.facebook.com/pages/Brameshs-Tech/140117182685863