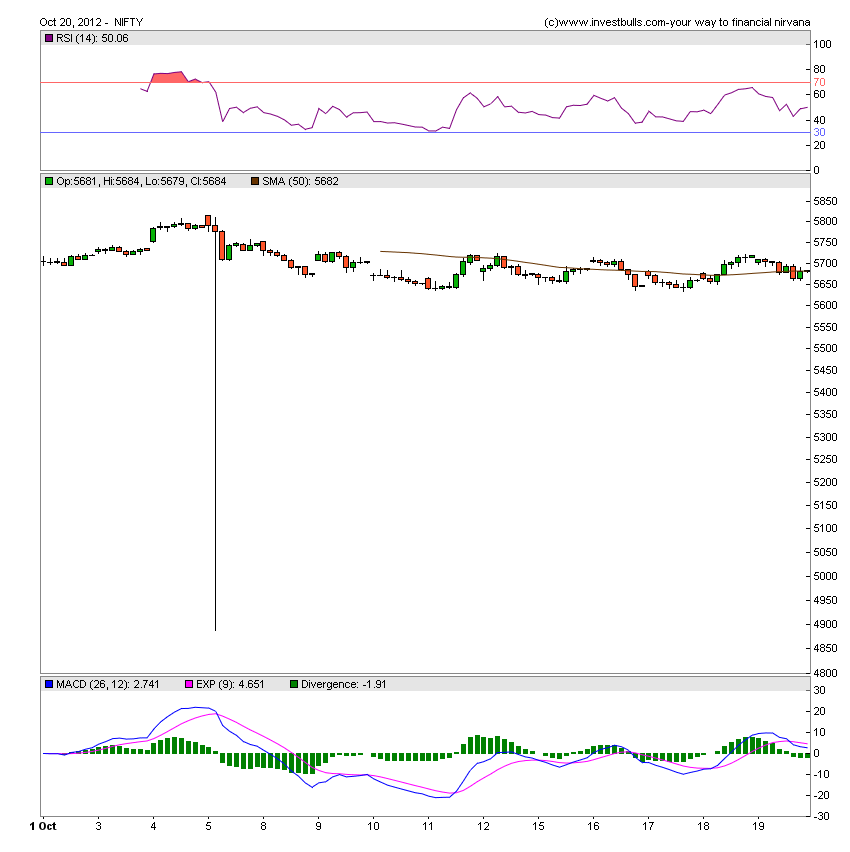 Nifty made the top at 5815 in September,Flash crash occurred hurting the sentiments and Nifty made a 100 Points range 5635-5725 and since has been oscillating in that range from past 8 trading sessions.The law of moving average always suggests when get heavily loaded on a single side consolidation is the name of game, So after a huge breakout from 5217 we have a straight line rise till 5800 so nifty needs to capture is breath and consolidation was the name of game. Other reasons which we can attributed are most of traders and mass psychology for 6000 and market is always having the habit to beat the street and moving the line of least resistance.
 Nifty Hourly Chart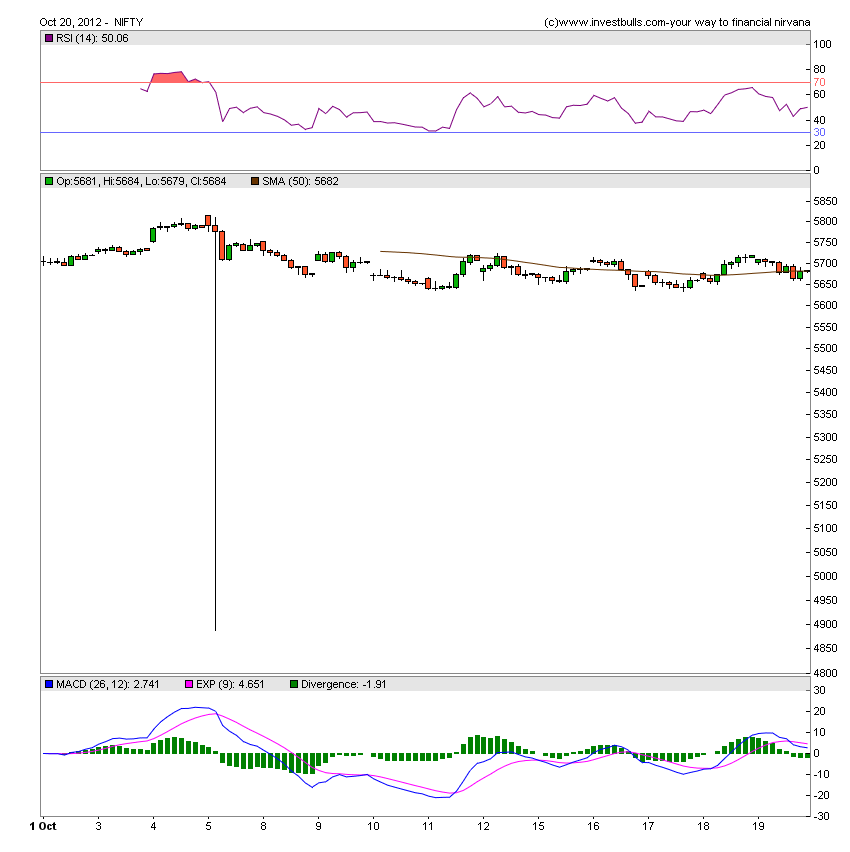 Nifty Hourly chart took resistance at 50 Hourly SMA at 5682, Till 5700 is not crossed on hourly basis nifty will be under selling pressure. We will get a gap down opening on monday and if we do not break 5635 another leg up till 5700 is possible.
Nifty Gaps

Gaps formation in Nifty Daily chart pattern, 7 gaps in the range of  5077-5600. Do note the GAP formed from 5435-5526 was Breakaway Gap
5043-5077
5238-5309

5303-5309
5399-5415
5435-5526
5554-5575 (Break 5635 and we can attemp to fill this gap)
So these levels should be noted down carefully to find further support and resistance.
Nifty Daily Chart
Daily chart is in consolidation phase with a tight range of 5635-5725. Its grinding in this range from past 9 trading sessions. Heaven for Options Sellers and Hell for Option Buyers as premium is deteriorating each and every passing day. Till the range of 5635-5725 is not broken conservative traders stay out of trade ,Aggressive traders  Sell Resistance and Buy support till either side stop loss is not triggered.
Nifty Daily with Andrew's Pitchfork

As seen in above chart any close above the upper line of Andrew's Pitchfork nifty was unable to break and eventually going in corrective mode.Support now exists at 5638 and 5600.
NB: Due to several readers request i have divided the Weekly chart in 2 parts..
Let me go by Disclaimer these are my personal views and trade taken on these observation should be traded with strict Sl
We do discussion is Live market to update Nifty levels If you are interested you can LIKE the page to get Real Time Updates.
Follow on Facebook during Market Hours:  http://www.facebook.com/pages/Brameshs-Tech/140117182685863