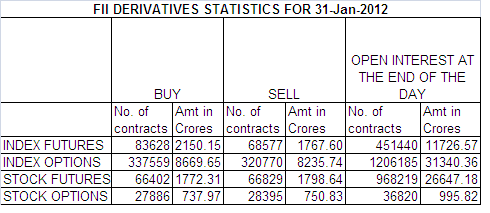 Below is my Interpretation of FII OI data Sheet for 31-Jan-12.
1. FII bought 15051 Contracts of NF worth 382 cores OI also increased by 4919 contracts.
2. Nifty Futures was able to cover up all the looses made yesterday ended up by 117 points,As OI also increased by 4919 contracts longs were added into the system.
3. We have clearly mentioned yesterday there were no indication of shorting from BIg Boys and today we saw the effect. Hope the timely warning helped trader and avoided shorting the INDEX
4. Today Nifty made one more attempt to cross over 200 DMA@5199 and closely near that level only.
5. Today's Price action has few important Observation
Nifty filled the Gap formed on Monday 5163-5204
Nifty created 5 Gap today 5087-5120
Nifty has formed a potential double top formation(Bearish in nature) @5217. Friday's High:5217 Today's High:5215
Persistence Negative Divergence in RSI ,Stoch with overbought condition. Still we have not met any price confirmation.
6. Today was monthly closing and Nifty has gained 12% and closed at the highs of month. The trend has changed from bearish voices start of series to Bullish voices. 1 month can make so much diffrence. Analyst were talking about dooms day scenario and 3900 on Nifty now have tunred bullish , citing for 5400 5600 on Index.
My advise:Never go by opinions instead work on a trading system and believe on price to be a successful trader.
7. Nifty OI has increased by 8 Lakhs contract. The rise we saw today was not backed by volumes both in equity and Futures. Total turnover was 87K cores.
8. Another intresting fact PCR it got reduced to 0.89 with 117 point rise in NF. PCR yesterday was 1.07. It means more Calls are getting written Was the rise today was used to write calls and buying of Puts we will come to know in next 3 days.
9. Nifty continued to follow the Tuesday Mania rising 100 points. Last 5 Tuesdays Nifty has made a century. History do repeat in Stock markets.
10. In equity FII bought 624 cores DII sold 241 cores.
11. 5300 CE is having highes OI of 55 Lakhs whereas 5000 PE is having the highest OI 55 Lakhs. Range has shifted to upper end.
12. Heavy Puts writing was seen in 5100-5200 PE in total of 22 Lakhs. When mass psychology is tilted on 1 side its ripe for market to turn and surprise.
13. Keep an Eye on 4700 PE today also it saw an addition of 3.77 Lakhs with price reducing by 7 rs.
14. FII SAR has increased to 5195 and VWAP at 5175.
Buy above 5230  Tgt 5250,5274 and 5300

Sell below 5175 Tgt 5140,5120,5087

All levels mentioned are SPOT levels.
Let me go by Disclaimer these are my personal views and trade taken on these observation should be traded with strict Sl
We do discussion is Live market to update Nifty levels If you are interested you can LIKE the page to get Real Time Updates.
Follow on Facebook during Market Hours:  http://www.facebook.com/pages/Brameshs-Tech/140117182685863