FII bought 44.7 K contract of Index Future worth 4104 cores, Net OI has decreased by 53.2 K contract 84.9 K Long contract were added by FII and 17.4  K Shorts were added by FII. Net FII Long Short ratio at 1.44 so FII used rise to enter long and enter short in Index Futures. We have also seen 17.2 K cores Buy in Options Today.
Nifty is near an Important time cycle based on Astro and Gann Cycle as discussed in below video so for intraday trades tommrow Intraday Ratios Indicator  can help. Jupiter and Mercury are also said to have an effect on stock market results.Another geocosmic cycle to consider is the 12-year transit of Jupiter through the signs. It spends approximately one year in each sign in its 12-year orbit around the Sun. The previous studies have shown that intermediate or long-term cycle crests occur when Jupiter does a sign change.
For Swing Traders Bulls will get active above 17817 for a move towards 17883/17949. Bears will get active below 17685  for a move towards 17619/17553/17487.
17421 is Gann 50% level which gann has give lot of importance. Break of 17421 we will see a fast rise towards 17590. — 17590 done. Now above 17590 can lead to rally towards 17759 — 17759 also done Now above 17759 heading towards 17927. 
Intraday time for reversal can be at 9:18/10:430/11:51/12:25/1:14/2:56 How to Find and Trade Intraday Reversal Times
MAX Pain is at 18000 PCR at 0.91  PCR below 0.78 and above 1.3 lead to trending moves, and in between leads to range bound markets.
Maximum Call open interest of 22 lakh contracts was seen at 18000 strike, which will act as a crucial resistance level and Maximum PUT open interest of 45 lakh contracts was seen at 17500 strike, which will act as a crucial Support level
Nifty Nov Future Open Interest Volume is at  1.09 Cr with addition of 4.2  Lakh with increase in cost of carry suggesting Long positions were added today.
NIfty Rollover cost @ 17732 and Rollover is at 70.5 % closed above it.
FII's bought 2818 cores and DII's sold 1580 cores in cash segment.INR closed at 83.05
#NIFTY50  as per musical octave trading path can be 17044-17551-18058 take the side and ride the move !!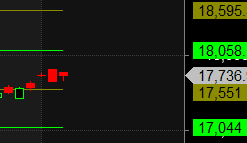 Trading is a game of math. It is about finding setups that offer you a good risk/reward and pulling the trigger. Thirty–40 percent of these trades will result in a loss. This is the game.
Positional Traders Trend Change Level is 17850 on Futures go long and short above/below it That will help you stay on the side of Institutions and which has a greater risk-reward ratio. Intraday Traders 17771 will act as a Intraday Trend Change Level.
Intraday Trading Levels
Buy Above 17811 Tgt 17854, 17900 and 17943 (Nifty Spot Levels)
Sell Below 17714 Tgt 17685, 17636 and 17600 (Nifty Spot Levels)
As always I wish you maximum health and trading success