FII sold 6.4 K contract of Index Future worth 558 cores, Net OI has increased by 5.9 K contract 259 K Long contract were covered by FII and 6.1 K Shorts were added by FII. Net FII Long Short ratio at 0.22 so FII used fall to exit long and enter short in Index Futures.
We are having Few Important aspect tommrow which Involves Mercury,Pluto and Uranus which will have big impact on World Markets.
Venus YOD Uranus — Key Dates Imp for Global Market

Mercury Opposition Pluto HELIO — Important Turning Point
Also price has bounced from 200 DMA and Gann angle as shown in below chart. For Tommrow First 15 Mins High and Low will guide for the day.
For Swing Traders Bulls will get active above 17155 for a move towards 17220/17285/17350. Bears will get active below 17025 for a move towards 16960/16898/16816
1 Bearish target are done as per astro aspect now todays High and Low will decide the next move of the Nifty, Nifty has been in sideways move in last 4 trading session so big move is round the corner. Swing Trade plan as below as per Intraday Ratios Indicator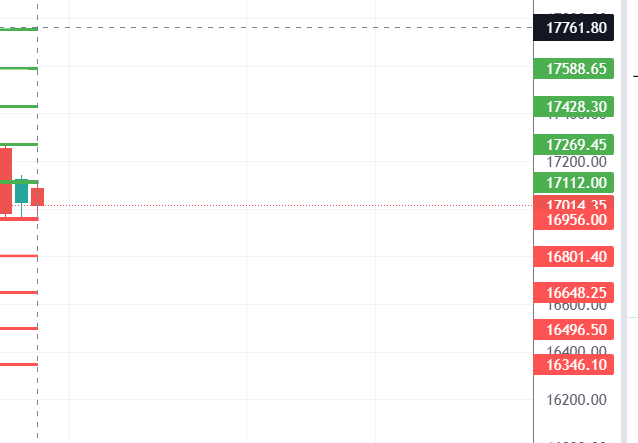 Intraday time for reversal can be at 9:42/10:24/11:12/12:14/2:09/2:51 How to Find and Trade Intraday Reversal Times
MAX Pain is at 17100 PCR at 0.78 PCR below 0.78 and above 1.3 lead to trending moves, and in between leads to range bound markets.
Maximum Call open interest of 22 lakh contracts was seen at 17200 strike, which will act as a crucial resistance level and Maximum PUT open interest of 15 lakh contracts was seen at 17000 strike, which will act as a crucial Support level
Nifty has formed a tripple bottom at gann anble  at 17956 if its not broken we should see a higher move towards 17200/17420.
When Markets start rallying on Bad News and Start falling on Good News they genreally make a top or bottom for short term.
Nifty Oct Future Open Interest Volume is at  1.36 Cr with addition of 3. Lakh with increase in cost of carry suggesting LOng positions were added today.
NIfty Rollover cost @ 17028 and Rollover is at 73.4 % closed bellow it.
FII's sold 1636 cores and DII's bought 739 cores in cash segment.INR closed at 82.45
#NIFTY50  as per musical octave trading path can be  16565- 17044-17551 take the side and ride the move !!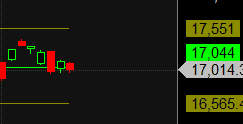 Anyone can become a trader and overcome his or her fears. Provided that people are not clinically ill, they can resolve those fundamental anxieties if they are truly willing to work on themselves.
Positional Traders Trend Change Level is 17109 on Futures go long and short above/below it That will help you stay on the side of Institutions and which has a greater risk-reward ratio. Intraday Traders 17002 will act as a Intraday Trend Change Level.
Intraday Trading Levels
Buy Above 17150 Tgt 17175, 17199 and 17245 (Nifty Spot Levels)
Sell Below 17098 Tgt 17075, 17051 and 17010 (Nifty Spot Levels)
As always I wish you maximum health and trading success