As Discussed in Last Analysis We saw the impact of Gann Rule If a price is rising for 9 consecutive day's at a stretch, then there is a high probability of a correction for 5 consecutive days. (Ratio is 9:5) and Double Ingress of Mars and Sun as per Astrology  Bank NIfty saw 1512 points correction in just 2 trading sessions. Now we have another important Rule kicking in today In a highly up trending market weekly low is achieved on Tuesday. 
If this rule have to Kick in Bottom can be made today around 9:47-10:10 as we are back to gann 4×3 trendline support and bounce can be fast and furious. 38180 level to be watched where 1 gann cycle is completing. For Swing Traders Bulls need to move above 38339 for a move towards 38536/38732 Bears will get active below 38142 for move towards 37945/37748/37552. 
Gann Rule Worked perfectly as price bounded from gann angle and now we have Uranus Retrograde tommrow and we have discussed the important in below video, For Swing Traders Bulls need to move above 38730 for a move towards 38924/39119/39314. Bears will get active below 38535 for move towards 38340/38145/37950
Intraday time for reversal can be at 9:15/10:22/11:07/12:01//2:15/2:59  How to Find and Trade Intraday Reversal Times
Bank Nifty rollover cost @ 36814 and Rollover @73.2 % Closed above the rollover level suggesting bias is Bullish
Bank Nifty Sep Future Open Interest Volume is at 10.6  lakh with addition of 1.8 Lakh contract , with increase in Cost of Carry suggesting  long positions were added today.
As per Musical Octave 38243 is Pivot Above it rally towards 39381 Below it 37169.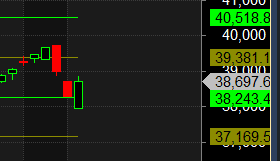 Maximum Call open interest of 31 lakh contracts was seen at 39000 strike, which will act as a crucial resistance level and Maximum PUT open interest of 42 lakh contracts was seen at 38000 strike, which will act as a crucial Support level
MAX Pain is at 38800 and PCR @0.63 . PCR below 0.95 and above 1.3 lead to trending moves, and in between leads to range bound markets.3
When I couldn't play according to my system, which was based on study and experience, I went in and gambled
For
Positional Traders
Trend Change Level is
38446  on Futures
and go long and short above/below it That will help you stay on the side of Institutions and which has a greater risk-reward ratio. For Intraday Traders
38470
will act as a
Intraday Trend Change Level. 
Buy Above 38870 Tgt 38999, 39125 and 39381 (Bank Nifty Spot Levels)
Sell Below 38601 Tgt 38506, 38410 and 38225

(Bank Nifty Spot Levels)
As always I wish you maximum health and trading success