FII sold 33.8 K  contract of Index Future worth 2815 cores, Net OI has increased by 24.6 K contract 4.5 K Long contract were covered by FII and 29.5 K Shorts were added by FII. Net FII Long Short ratio at 0.24 so FII used rise to exit long and enter short in Index Futures.
As Discussed in Last Analysis   Tommrow we have Moon Declination so watch out first 15 mins High and Low to take trade. Moon/Mercury/Jupiter  has big impact on Nifty also tommrow we have Mercury Square Jupiter HELIO aspect. Bulls need to close above 16236 now waiting for target of 16299/16362/16426. Bears will get active below 16172 for a move towards 16108/16046. As Discussed in below video we have Venus Conjunct Uranus HELIO Aspect and Lunar Cycle so we can see good upmove tommrow. Bulls need to close above 16157 now waiting for target of 16221/16284/16347. Bears will get active below 15988 for a move towards 15929/15866.
Intraday time for reversal can be at 9:20/10:45/11:41/12:44/1:46/2:43   How to Find and Trade Intraday Reversal Times
MAX Pain is at 16200 PCR at 0.97 PCR below 0.87 and above 1.3 lead to trending moves, and in between leads to range bound markets.
Nifty July Future Open Interest Volume is at 1.21 Cores with addition of 2.6 Lakh with decrease in cost of carry suggesting Long positions were added today.
Nifty rollover cost @ 15801  and Rollover @66.1 % Closed above the rollover level suggesting bias is Bullish
Maximum Call open interest of 44 lakh contracts was seen at 16300 strike, which will act as a crucial resistance level and Maximum PUT open interest of 52 lakh contracts was seen at 16000 strike, which will act as a crucial Support level. There is total OI of 6.2 Cr on the Call side and 7.2 Cr on the Put side. So, the activity is more on PUT side indicating Option Writers are having BULLISH Bias.
FII's sold 1565 cores and DII's bought 140 cores in cash segment.INR closed at 79.65
Above 16108 rally towards 16573 as per Musical Octave.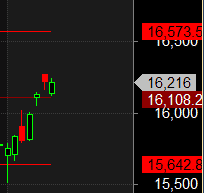 Retailers have bought 805  K CE contracts and 561 K CE contracts were shorted by them on Put Side Retailers sold 292 K PE contracts and 152 K PE shorted contracts were covered by them suggesting having Bullish outlook,On Flip Side FII bought 43.8 K CE contracts and 94.7 K CE were shorted by them, On Put side FII's sold 2.1  K PE and 38 K PE were shorted by them suggesting they have a turned to neutral Bias.
THE GREATEST WEAKNESS I can give you the best rules in the world and the best methods to trade,still you can lose money on account of the human element, which is your greatest weakens
For
Positional Traders
Stay long till we are holding Trend Change Level
15952
and stay short below it. That will help you stay on the side of Institutions and which has a greater risk-reward ratio. For Intraday Traders
16093
will act as a
Intraday Trend Change Level.
Buy Above 16108 Tgt 16134, 16166 and 16210 (Nifty Spot Levels)
Sell Below 16025 Tgt 16000, 15975 and 15950 (Nifty Spot Levels)
As always I wish you maximum health and trading success