Retail investors are the newest wave on Dalal Street. Over the past 24 months, the rise of retail investors taking up stock trading as a hobby as social media during covid loackdown became the catalyst for a whole new army of investors who are only just realizing their group buying power.
This group of investors are becominging increasingly financially literate and are using social media platforms to share information, organize trades in large quantities, and change the landscape of Dalal Street.
Since October, FIIs have sold shares worth Rs 2 lakh crore. That's almost 4 times more than the Rs 52,987 crore they sold during 2008 at the time of the Great Financial Crisis.
Even  FM Nirmala Sitharaman stated that the Indian retail investors deserved appreciation for developing a competent shock-absorbing capacity and investing money into the stock markets in India amid volatility. She was responding to the question of Congress member Dr Shashi Tharoor during the Question Hour in Lok Sabha.
Why FM Sitharaman was all praise for retail investors
As the Market Trend are changing lets see the Journey of the Retail Trader of last 2 years and Will Dow Theory Repeat again.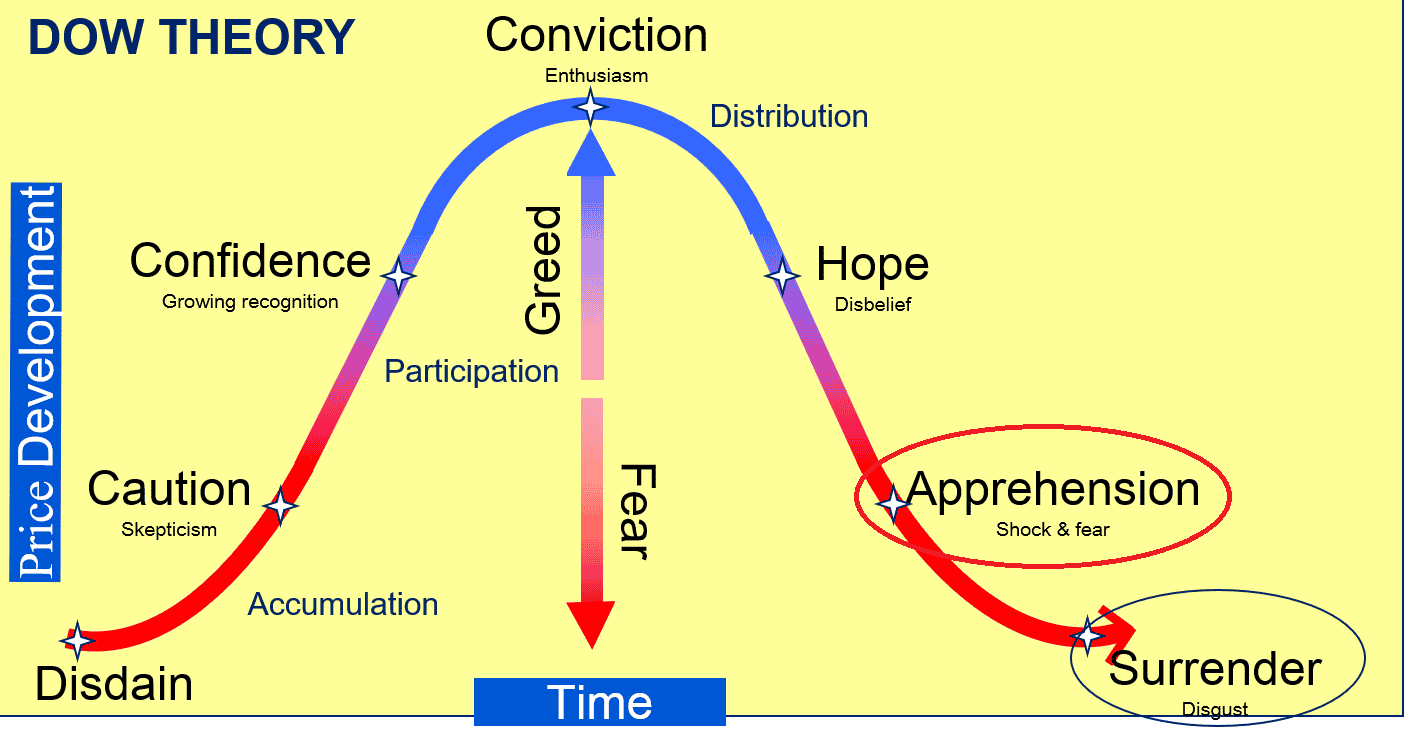 1. Started buying small quantities in Mar 20 after the crash and Loackdown announced on 23 March 2020
2. As Market kept on going up Started increasing trade size throughout 2020 and 2021
3. As Market got expensive sold the stocks bought in 2020-21 but regretted later as market kept on going higher.
4. Learnt Lessons and with Media Houses Shouting Buy on Dips stopped selling and started buying on every dip they got in there favourite shares.
5. Started buying more and more mid andn small caps as Stocks were going higher in matter of days, many doubled in 2 weeks only.
6. In October Market hit all time High and talk of 19000/20000 on cards and everyone was Super BUllish
7. As Market started going down and Hit low of 20 Dec 2021 deployed remaining capital as it was a "correction in a bull mkt" and as market rallied in Jan was very happy with the returns and got more confidence.
8. In Jan Market started correcting again but again used the Opputunity to Buy
9. Every Expert on Media channels were bullish did not book profit as price came back near cost price did not book thinking we should not sell as market only rise
10. Once 17000 broke on the Nifty confidence started coming down and most have started posting WarrenBuffett quotes
11. Near 16000 conviction was over as stocks were bleeding and portfolio in down more than 40%
12. At 15500 most  of so called "long term investors" are panicking and waiting for a bounce to exit
13. Kept on searching for bottom and market keep going down the day they will see all stock out of panic market will bottom out and rally hard.
Try to Focus on Technicals and do not overleverage than only you can make money.