FII sold 14.1 K contract of Index Future worth 1174 cores, Net OI has decreased by 1.1 K contract 7.6 K Long contract were covered by FII and 6.4 K Shorts were added by FII. Net FII Long Short ratio at 1.04 so FII used rise to exit long and exit short in Index Futures.
As discussed in Last Analysis    We have seen perfect rise in nifty and breakout above the  gann angle resistance. We have discussed the importance of astro cycle in below video. Swing Traders Longs above 16700 for a move towards 16763/16827/16891. Bears will get active below 16570 for a move towards 16506/16444/16385. Bulls were not able to break 16700 and Bears below 16570 did 1 target on downside, and formed a perfect Inside Bar pattern also we saw the importance of Bayers Rule "Bayer Rule 2: Trend goes down within 3 days when the speed difference between Mars and Mercury is 59 minutes. Leads to Big Move ". Tommorow we have 2 Lunar Cycle coming together Moon at Apogee and Moon at Extreme Declination suggesting it will again be a Volatile move. Swing Traders Longs above 16626 for a move towards 16690/16743/16816. Bears will get active below 16497 for a move towards 16432/16367/16303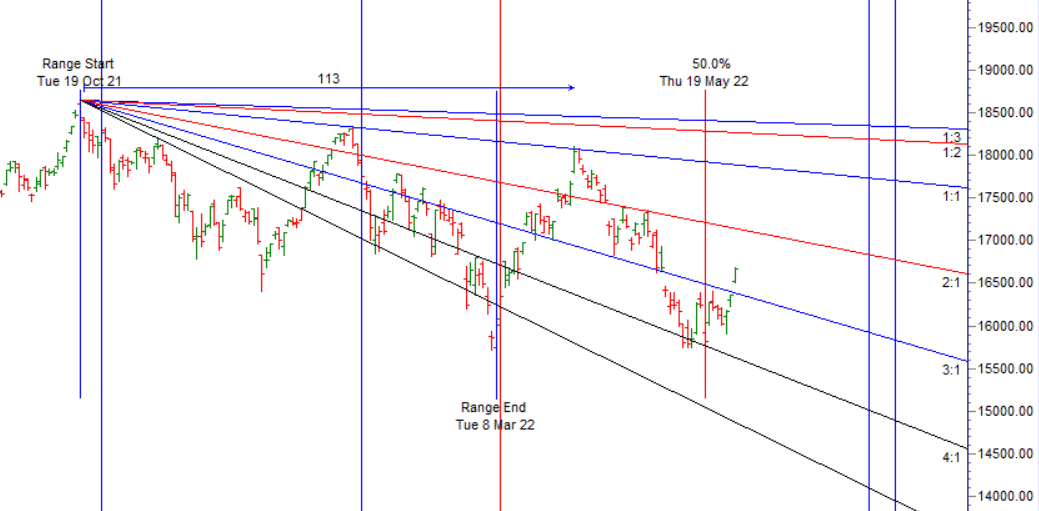 Intraday time for reversal can be at 10:07/11:37/12:08/2:03  How to Find and Trade Intraday Reversal Times
MAX Pain is at 16500 PCR at 0.86 PCR below 0.89 and above 1.3 lead to trending moves, and in between leads to range bound markets.Nifty rollover cost @ 16139and Rollover @69.6 %.
Nifty May Future Open Interest Volume is at 1.14 Cores with addition of 2.2 Lakh with decrease in cost of carry suggesting LONG positions were closed today.
Maximum Call open interest of 51 lakh contracts was seen at 16500 strike, which will act as a crucial resistance level and Maximum PUT open interest of 31 lakh contracts was seen at 16800 strike, which will act as a crucial Support level
FII's sold 1003 cores and DII's bought 1845 cores in cash segment.INR closed at 77.52
Retailers have bought 590 K CE contracts and 438K CE contracts were shorted by them on Put Side Retailers bought 22 K PE contracts and 60.7 K PE shorted contracts were added by them suggesting having BULLISH outlook,On Flip Side FII bought 13 K CE contracts and 29.5 K CE were shorted by them, On Put side FII's bought 26.4 K PE and 12.3 K PE were shorted by them suggesting they have a turned to Bearish Bias.
Turning your trading around can't occur in a vacuum. You Will Always need a "MENTOR"
For Positional Traders Stay long till we are holding Trend Change Level 16392 and stay short below it. That will help you stay on the side of Institutions and which has a greater risk-reward ratio. For Intraday Traders 16610 will act as a Intraday Trend Change Level.
Buy Above 16610 Tgt 16636, 16666 and 16699 (Nifty Spot Levels)
Sell Below 16497 Tgt 16475, 16444 and 16410 (Nifty Spot Levels)
As always I wish you maximum health and trading success