As Discussed in Last Analysis  Bank Nifty opened with gap up and did not came near our entry point. Now tommrow we will see impact of Jupiter and also we are completing 144 trading days from 25 Oct 2021 on Bank Nifty so as both gann and astro dates are coming together we should see a good move in the market, Swing Traders Longs above 34446 for a move towards 34633/34819. Bears will get active below 34260 for a move towards 34073/33886/33700/33513. So Combo of Astro and Gann date created a lethal combo and led to move 700+ point in bank nifty and Low made was 34424 so bulls got entry at 34446 and did all target on upside. 30 May is another important astro date which will come on MOnday so aviod carrying overnight positions without Hedge. Swing Traders Longs above 35225 for a move towards 35408/35593/35729. Bears will get active below 35000 for a move towards 34854/34669/34485.
Intraday time for reversal can be at  10:09/11:12/12:03/2/2:33 How to Find and Trade Intraday Reversal Times
Bank Nifty May Future Open Interest Volume is at 23.7 lakh with addition of  7.3 Lakh contract , with increase in Cost of Carry suggesting  Long positions were added today.
Bank Nifty rollover cost @ 34598 and Rollover @79.5 %.
Maximum Call open interest of 10 lakh contracts was seen at 35500 strike, which will act as a crucial resistance level and Maximum PUT open interest of 10 lakh contracts was seen at 34000 strike, which will act as a crucial Support level
MAX Pain is at 35000 and PCR @0.87 . PCR below 0.9 and above 1.3 lead to trending moves, and in between leads to range bound markets. So, after all the mayhem, we are probably returning to sanity is what is indicated by the rising PCR.
#BANKNIFTY closed above #gann Monthly TC Level of 35034 upmove can last till 35574/35758/35984/36179/36641 Any close below 35000 can lead to quick fall towards 34491.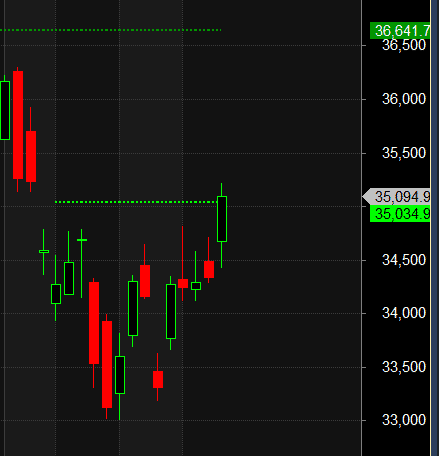 When it comes to trading, professionals are able to do the right thing as naturally as breathing. You no longer have to think about what is right and what is wrong. They act automatically based on their knowledge, experience and skills. They don't invent opportunities, they find them and then implement them with the help of the behaviour they have learned.
For Positional Traders Trend Change Level is 35277 on Futures and go long and short above/below it That will help you stay on the side of Institutions and which has a greater risk-reward ratio. For Intraday Traders 34865 will act as a Intraday Trend Change Level. 
Buy Above 35225 Tgt 35323, 35403 and 35555 (Bank Nifty Spot Levels)
Sell Below 35001 Tgt 34913, 34800 and 34666

(Bank Nifty Spot Levels)
As always I wish you maximum health and trading success