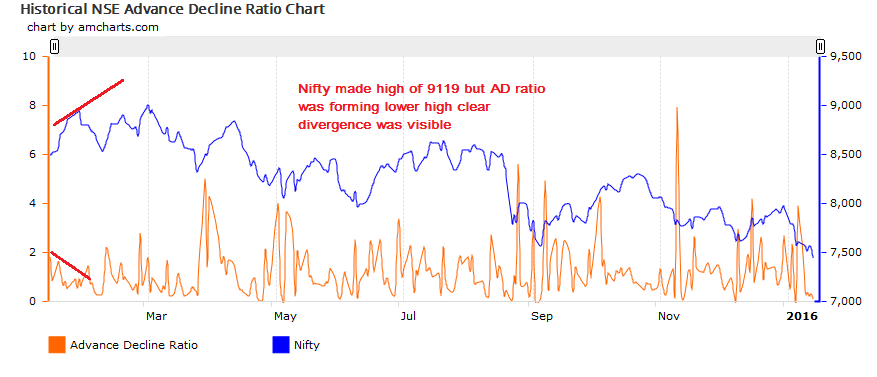 There are certain characteristics of the markets that take place almost all the time, when the indexes are about to approach an intermediate or long-term top or long term bottom.  In order of importance, this is what you have to look at to identify market tops.
Time
Sentiment
Market Breadth
Price  patterns
Valuations
Time Profiles: Major tops/bottom  are made after the markets have been going up/down for an extended  long period of Time. Indian Market follow the 8 year cycle , Major Tops are formed after 8 year, 1992,2000,2008 have been the major tops in Indian market.  We have formed a Major Top is  March 2015 @9119 from where we have corrected till 7400 a correction of almost 20%. Any market which corrects more than 20% is technically in Bear market.  But time alone will not give you the sufficient information you need to identify market tops/bottom. All of the key identities must be in place at or near major market tops/bottom.
Sentiment: Bullish Sentiment will always be high at or near market tops and Bearish Sentiment near market Bottom . Have you noticed the sentiment for Banks stocks near Jan period, no one was talking about shorting banks stocks media was going "gung ho" about banks taking lead. 30 Jan 2015 was top formed in Bank Nifty. Extreme sentiment is always an attribute of a market turn or top but, by itself, is not a determinant of the turn. If we take current scenario Banking Stocks are getting butuchered specially the PSU Banking space.
Market Cap of PSU banks have almost taken a 30% Hit in last 15 days. Market cap of 16 PSU stocks is currently at 266549 core which is almost equivalent to Market cap of HDFC Bank. 
Bearish sentiments in PSU Bank is at extreme the kind of Hit they are taking. Valuation goes for a toss during formation of market bottoms. One of the most difficult aspects of this methodology is to determine the degree or scale of the Market Sentiment or how big an extreme is being made. Often high sentiment only leads to pullbacks, but by merging the Sentiment Analysis with the Technicals, one can have a better grasp of this. Thus, if the Technicals are diverging or reversing on a daily as well as a Weekly basis, probabilities favor a more important change in the Sentiment and formation of major bottom.
Market Breadth.  There are a number of ways to monitor the market breadth, but the one thing that has always marked market tops, is a divergence between the NSE AD (NSE Advance-Decline Issues) . A divergence is when the NIFTY heads to new highs as the NSE Advance and Decline fails to make a new high. This divergence has shown up at every market top during our 8 year time period.
The chart below illustrates these negative divergences during the High made of 04 March 2015 @9119. Nifty made the high but A?D failed to do catch up . Under current scenario we are not seeing any divergence. We have never had a true major top/bottom without this divergence.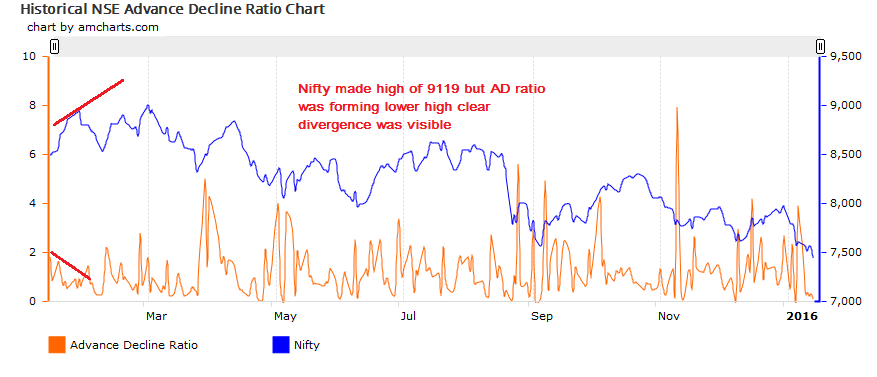 Price and Price Patterns: There are certain price patterns that typically take place at market tops. Very rarely will you see a major top form from the exact last high. Tops are a process and take time to form. Once a top is in place, you will almost always see the bulls try and test that high again. When it fails to make a new high, that is when you can consider a major top is in place. Below is a chart of the NSE tops and Bottom.
Valuation
PE ratio plays also an important role in finding major top and bottom. Valuation above 24 are generally blow off and can get extended till 28 as in Jan 2008. Valuation near 16-17 generally act as short term bottom. Currently we are trading at valuation of 20.
When looking for major tops / bottom in the markets, all of the elements above must be in place. If one is missing, you must leave the door open that the major top is not in place yet.