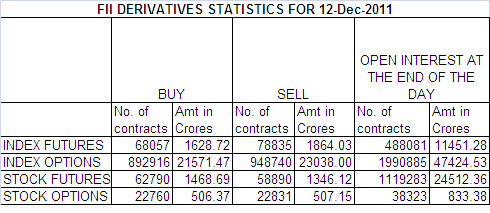 Below is my Interpretation of FII OI data Sheet for 12 Dec.
1. FII sold  10,778  Contracts in NF worth 235 Cores in Index Futures with Open Interest Increasing by  28474 contracts after the disastrous IIP data which came.
2. FII has added  shorts as the volume tick in morning came at 4905 NF means big fund selling happening at that level, The significance of 4905 came in first half hour of session when we had fall and continued with the fall after IIP data means strong hands are sitting on shorts.
3. As NF  was  down by 113  points  with Open Interest addition by  FII . Rise in OI with fall  in price means shorts got added.
4. NF total OI was at 2.1 cores with 10 lakh addition shorts got added from retails and HNI also.

5. For December Series FII have squared off there longs and now fresh shorts were added today tune of 20K Contracts.
6. NF has fallen from the high of 5100 to low of 4755 in matter of  4 days means a fall of 345 points, which shows the intensity and gravitation of fall is fast and furious.We have discussed the possibility of fall today in FaceBook page(You can LIKE the page so that you get timely updates).

7. INR hit the all time low of 52.84 after IIP data. 1 rs fall in INR increase Oil import bill by 8K cores . So Indian Fiscal and current defict have a double sided beating and in turn is bad for Indian economy.If rupee continues its fall Nifty will keep on with its fall.
8. In Equity cash segment FII sold 428 cores  whereas DII were buyers of  166 cores as rupee hits new all time low.
9. As per Options data  5100 CE has highest OI of 80 lakhs and 4700 PE has highest OI of 86 Lakhs. With such a high OI at 4700 PE i do not accept to get it broken at first we should bounce from 4700 and eventual fall after we had hourly charts move out of oversold zone.
10. 4800 CE added 13 Lakhs and 4700 CE added 15 lakhs in OI meaning crossing 4800 will a big hurdle for bulls. Rallies till 4855 should be used to sell again.
11. Hourly charts looks oversold after 4 days relentless selling and relief rally should be offing once 4690-4700 is achieved tomorrow.
12. FII SAR level  comes at 4692 and if this level come tomorrow book profits in shorts. I accept a pullback of atleast 60-80 points.

13. Close below 4756 tomorrow will lead to fall till 4640 and 4536 in this week only.

14. Till the formation of lower lows is seen on daily charts No positional longs should be taken. Have a proper risk management system and never be heroic in market thinking that Nifty will bounce. Try to trade on levels with discipline,Trade when level come with patience and maintain sl as markets are quiet volatile these days.

Let me go by Disclaimer these are my personal views and trade taken on these observation should be traded with strict Sl
Follow on Facebook during Market Hours:  http://www.facebook.com/pages/Brameshs-Tech/140117182685863