FII bought 3.7 K contract of Index Future worth 416 cores, Net OI has decreased by 1.7 K contract 1 K Long contract were covered by FII and 2.7 K Shorts were covered by FII. Net FII Long Short ratio at 0.31 so FII used fall to enter long and exit short in Index Futures.
I have explained the importance of today' Astro and Gann Date and how to find it in below video. Today we have seen both Astro and Gann date combo and big rally in Nifty. Tommrow till we are above 17350 Bulls have upper hand.
For Swing Traders Bulls will get active above 17425 for a move towards 17490/17556/17621. Bears will get active below 17229 for a move towards 17163/17098/17008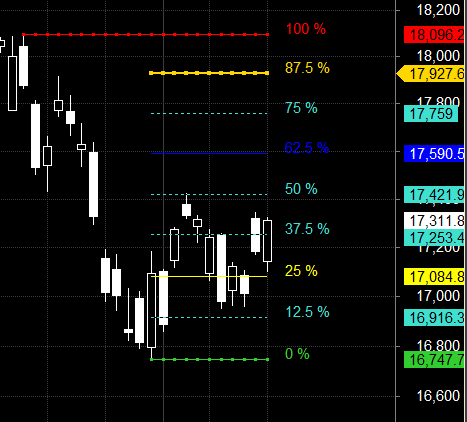 17421 is Gann 50% level which gann has give lot of importance. Break of 17421 we will see a fast rise towards 17590. — Should be done tommrow
Intraday time for reversal can be at 9:50/10:59/11:29/12:03/1:48/2:35 How to Find and Trade Intraday Reversal Times
MAX Pain is at 17300 PCR at 0.78 PCR below 0.78 and above 1.3 lead to trending moves, and in between leads to range bound markets.
Maximum Call open interest of 32 lakh contracts was seen at 17300 strike, which will act as a crucial resistance level and Maximum PUT open interest of 45 lakh contracts was seen at 17000 strike, which will act as a crucial Support level
Nifty has formed a tripple bottom at gann anble  at 17956 if its not broken we should see a higher move towards 17200/17420. — 17200 done waiting for 17420
Retailers have bought 198  K CE contracts and 299 K CE contracts were shorted by them on Put Side Retailers bought 118 K PE contracts and 97 K PE shorted contracts were added by them suggesting having BEARISH outlook.
FII bought 40.6 K CE contracts and 330 CE were shorted by them, On Put side FII's bought 112 K PE and 137 K PE were shorted by them suggesting they have a turned to Neutral Bias.
Nifty Oct Future Open Interest Volume is at  1.26 Cr with addition of 2.6 Lakh with increase in cost of carry suggesting Long positions were added today.
NIfty Rollover cost @ 17028 and Rollover is at 73.4 % closed above it.
FII's sold 372 cores and DII's bought 1582 cores in cash segment.INR closed at 82.430
#NIFTY50  as per musical octave trading path can be  16565- 17044-17551 take the side and ride the move !!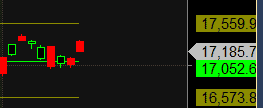 Anyone can become a trader and overcome his or her fears. Provided that people are not clinically ill, they can resolve those fundamental anxieties if they are truly willing to work on themselves.
Positional Traders Trend Change Level is 17134 on Futures go long and short above/below it That will help you stay on the side of Institutions and which has a greater risk-reward ratio. Intraday Traders 17241  will act as a Intraday Trend Change Level.
Intraday Trading Levels
Buy Above 17400 Tgt 17424, 17456 and 17499 (Nifty Spot Levels)
Sell Below 17275 Tgt 17256, 17225 and 17199 (Nifty Spot Levels)
As always I wish you maximum health and trading success