FII bought 28.6 K  contract of Index Future worth 2449 cores, Net OI has decreased by 22.1 K contract 17.4 K Long contract were added by FII and 11.2 K Shorts were covered by FII. Net FII Long Short ratio at 0.67 so FII used rise to enter long and exit short in Index Futures.
As Discussed in Last Analysis  All Bullish target done and high made was 16588 at our final target of 16586 and bulls are striggling in 16518-16534 range. Now tommow will be an important day as Jupiter and Saturn are making an aspect as discussed in below video. For Swing Traders Bulls need to move above 16555 for a move towards 16619/16683/16747 Bears will get active below 16459 for a move towards 16394/16330/16266. Low made was 16483 so bears unable to break 16459 and bulls above 16555 did 16619 on upside now waiting for 16683/16747. Till low of 16484 is held as today Jupiter Square 45 which is a rare aspect as discused in below video Bulls will have upperhand. Bears will get active below 16459 for a move towards 16394/16330/16266.

Intraday time for reversal can be at 10:29/11:25/12:23/1:50/2:12   How to Find and Trade Intraday Reversal Times
MAX Pain is at 16500 PCR at 1.02 PCR below 0.87 and above 1.3 lead to trending moves, and in between leads to range bound markets.
Nifty July Future Open Interest Volume is at 1.03 Cores with addition of 9.6 Lakh with decrease in cost of carry suggesting Long positions were added today.
Nifty rollover cost @ 15801  and Rollover @66.1 % Closed above the rollover level suggesting bias is Bullish
Nifty Future have 73 Lakh OI added in range of 15933-15670 price zone out of today 1.19 Cores which is more than 60%  and yesterday we have closed above 15933 suggesting we should see a move towards 16253 and any close above it Bears will be under water and will rally price towards 16500 by next week based on OI data.  16500 Done.
Maximum Call open interest of 22 lakh contracts was seen at 16800 strike, which will act as a crucial resistance level and Maximum PUT open interest of 47 lakh contracts was seen at 16400  strike, which will act as a crucial Support level. There is total OI of 13.2 Cr on the Call side and 23.2 Cr on the Put side. So, the activity is more on PUT side indicating Option Writers are having BULLISH Bias.
FII's bought 1780 cores and DII's sold 230 cores in cash segment.INR closed at 77.94
#NIFTY50 READY for another 500 points move in next 4 trading session as per musical octave 16108-16573-17066 take the side and ride the move !!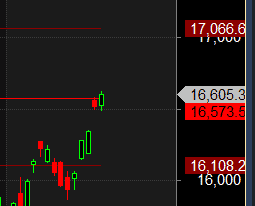 The first losses leave the deepest traces. Over time, however, you get used to it and the subsequent losses are no longer perceived with the same intensity, no matter how great they may be. The trader feels indifferent: "Oh, it doesn't matter whether I lose the money or not!"
For
Positional Traders
Stay long till we are holding Trend Change Level
16077
and stay short below it. That will help you stay on the side of Institutions and which has a greater risk-reward ratio. For Intraday Traders
16565
will act as a
Intraday Trend Change Level.
Buy Above 16630 Tgt 16666, 16699 and 16729 (Nifty Spot Levels)
Sell Below 16585 Tgt 16555, 16525 and 16500 (Nifty Spot Levels)
As always I wish you maximum health and trading success