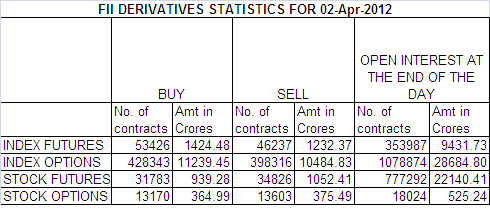 Below is my Interpretation of FII OI data Sheet for 01-Apr-12.
1. FII  bought  7189  Contracts of NF worth 192 cores OI also decreasing  by 10065 contracts.

2. As Nifty Futures was up  by 17 points and OI has reduced  by 100065 ,which basically means Long liquidation by FII. They are using the rise to liquidate there longs.
3. Nifty  closed above 20SMA@5291 which is bullish sign.Next important level comes to 5319 which is 50 SMA,Nifty just closed tad below this level.

4. I have been talking about the range of 5221-5370 NF based on Rollover data, look at today's high on NF it is at 5272 and it reacted decisively with 40 points quick fall.Litmus test failed at 5370. Fresh longs should be taken above 5372 NF only.

5. Nifty April   OI has decreased   by 14  lakh .Total OI stands at 1.90  cores  contracts.Long Liquidation was seen in NF. Also note that OI in April series is lowest when compared to Feb 2.3 cores and March 2.53 cores. Now Bulls are having upperhand with close above 20 SMA so next 30-40 lakhs can be added by Bulls to push nifty up and close above 5370. Bears also can push nifty down with an addition of OI. So its a neutral ground and next 2 days should be watched closely.

6. FII OI for April Series is 353987 which is one of the lowest in recent months. SO the Big boys have to still build positions and this will act as further trigger to Nifty. We will watch it closely which side they want to turn the boat.
7. Total F&O turnover was  78K   Cores  with total contract traded at 300092.As its a truncated week so traders are not interested in committing big positions.
8. VIX has collapsed to 20.88 this was the reason even with rise in NF,5400 CE ended in negative.
9. Equity volumes have been reducing every time nifty reached the 5171 levels which suggests selling intensity is slowing and case for a bounce back can be made.– This was another reason for a pullback we saw.

10. 5400 CE is having highest OI of  38  Lakhs with fresh addition of 3 lakhs. As of now looks at upper end of ceiling confirmed by our view closing below 5372
11. 5200 and 5300 PE showed an addition of 4.8 lakhs and 3.3 lakhs in OI.Sp base formation has started at 5200PE but still needs confirmation with OI in 5200 PE closed to 60 lakhs.
12. 5000 PE having highest OI of 54  lakhs but with fresh unwinding of 1.35 lakhs.
13. Nifty Futures Trend Deciding level is 5329, Trend Changer at 5287 NF (Above this Level Bulls will rule Nifty/Below this levels Bears have upperhand).

Buy above 5333 Tgt 5360,5385 and 5410

Sell below 5309 Tgt 5287,5267 and 5240
Let me go by Disclaimer these are my personal views and trade taken on these observation should be traded with strict Sl
To Get Real Time  update on  Nifty during market hours  you can LIKE  the page.
Follow on Facebook during Market Hours:  http://www.facebook.com/pages/Brameshs-Tech/140117182685863