FII sold 11.3 K contract of Index Future worth 1007 cores, Net OI has increased by 18.8 K contract 3.7 K Long contract were added by FII and 15 K Shorts were added by FII. Net FII Long Short ratio at 1.43 so FII used rise to enter long and enter short in Index Futures.
On 05 Nov Venus Opposition Uranus its Key Dates Imp for Global Market and SUN Opposition North Node suggesting volatlity will continue and best to do intraday trade till 08 Nov when SUn goes in Conjuction with Mercury. Today also with gap down we saw a swift recovery.
For Swing Traders Bulls will get active above 18111 for a move towards 18178/18225. Bears will get active below 18020 for a move towards 17950/17885
Intraday time for reversal can be at 9:32/10:02/11:35/12:47/1:29/2:22 How to Find and Trade Intraday Reversal Times
MAX Pain is at 18200 PCR at 0.91  PCR below 0.78 and above 1.3 lead to trending moves, and in between leads to range bound markets.
Maximum Call open interest of 32 lakh contracts was seen at 18200 strike, which will act as a crucial resistance level and Maximum PUT open interest of 25 lakh contracts was seen at 18000 strike, which will act as a crucial Support level
Nifty Nov Future Open Interest Volume is at  1.16 Cr with addition of 3 Lakh with increase in cost of carry suggesting Long positions were added today.
NIfty Rollover cost @ 17732 and Rollover is at 70.5 % closed above it.
FII's bought 677 cores and DII's sold 732 cores in cash segment.INR closed at 83.05
#NIFTY50  as per musical octave trading path can be 17551-18058-18595  take the side and ride the move !!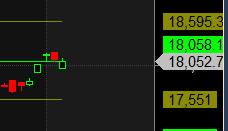 Profitable Trading : A Trading Strategy With An Edge (positive expectancy) + The Ability To Be Able To Consistently Apply The Strategy
Positional Traders Trend Change Level is 18008 on Futures go long and short above/below it That will help you stay on the side of Institutions and which has a greater risk-reward ratio. Intraday Traders 18098 will act as a Intraday Trend Change Level.
Intraday Trading Levels
Buy Above 18108 Tgt 18136, 18164 and 18200 (Nifty Spot Levels)
Sell Below 18020 Tgt 18000, 17956 and 17920 (Nifty Spot Levels)
As always I wish you maximum health and trading success