FII bought 7.5 K contract of Index Future worth 755 cores, Net OI has increased by 1.8 K contract 4.7 K Long contract were added by FII and 2.8 K Shorts were covered by FII. Net FII Long Short ratio at 0.18 so FII used rise to enter long and enter short in Index Futures.
Now as we have multiple events today and price is near gann angle and market is oversold near an important event so any positive news can lead to spike in price as we look at FNO Data Longs are around 13% and Shorts are 87%, Shorts at the highest levels at the start of a series, At start of July 2022 series shorts were at 85% and in Aug month bank nifty did an upmove of 5%. Price always follow path of least resistance.
We saw a good rally in nifty led by short covering as we have highest shorts, simple techniques lead to capturing big move. Now 03 Oct we have multiples bayers date coming and mercury is also changing direction which can again lead to big move in market. All Bullish target as per Swing trade plan also achived.
Bayer Rule 1: The trend changes when Mercury changes its direction
Bayer Rule . 38 MERCURY LATITUDE HELIOCENTRIC Some mighty fine tops and bottoms are produced when Mercury in this motion passes the above mentioned degrees 0, 3*21,6*42, and 7*0'"
So first 15 mins High and low will guide us for rest of the day.
Intraday Ratio indicator
can be used to capture the upside and downside levels.
For Swing Traders Bulls will get active above 17071 for a move towards 17135/17200/17265. Bears will get active below 16941 for a move towards 16877/16812/16747
Intraday time for reversal can be at 9:15/11:28/12:41/1:34/2:54 How to Find and Trade Intraday Reversal Times
MAX Pain is at 17000 PCR at 0.78 PCR below 0.78 and above 1.3 lead to trending moves, and in between leads to range bound markets.
Maximum Call open interest of 22 lakh contracts was seen at 17200 strike, which will act as a crucial resistance level and Maximum PUT open interest of25 lakh contracts was seen at 16900 strike, which will act as a crucial Support level
Retailers have bought 565 K CE contracts and 613 K CE contracts were shorted by them on Put Side Retailers bought 114 K PE contracts and 101 K PE shorted contracts were added by them suggesting having BEARISH outlook.
FII bought 50.8 K CE contracts and 19.7 K CE were shorted by them, On Put side FII's bought 73.7 K PE and 101 K PE were shorted by them suggesting they have a turned to Bullish Bias.
Nifty Oct Future Open Interest Volume is at 1.20 Cores with addition of 5.9 Lakh with increase in cost of carry suggesting Long positions were added today.
NIfty Rollover cost @ 17028 and Rollover is at 73.4 % closed above it.
FII's sold 3599 cores and DII's bought 3161 cores in cash segment.INR closed at 81.82
NIfty has formed an Outside Bar Pattern Break above 17187 target are 17406/17626/17846/18065. Break of 16747 target are 16528/16308/16008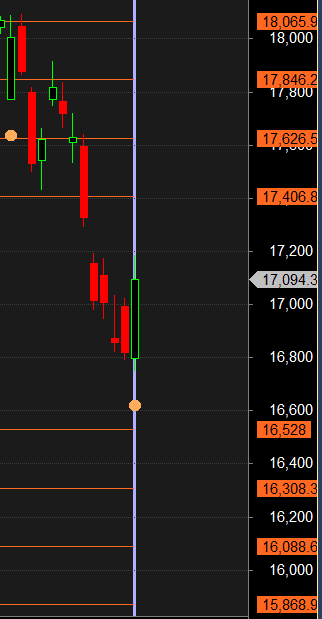 The person with the smallest ego can take losses quickly. Also, the smaller position usually results in a smaller loss. The smaller the amount of pain the ego has to work through, the less time it will take to get it out of the way
Positional Traders Trend Change Level is 16954 on Futures go long and short above/below it That will help you stay on the side of Institutions and which has a greater risk-reward ratio. Intraday Traders 17005 will act as a Intraday Trend Change Level.
Intraday Trading Levels
Buy Above 17010 Tgt 17043, 17099 and 17155 (Nifty Spot Levels)
Sell Below 16965 Tgt 16933, 16900 and 16865 (Nifty Spot Levels)
As always I wish you maximum health and trading success