As Discussed in Last Analysis Now we are near important zone of 38323-38371 which will again lead to 1008 poits move in Bank Nifty, For Swing Traders Bulls will get active above 38263 for a move towards 38457/38652/38846. Bears will get active below 38069 for a move towards 37875/37681. We have SUN Square North Node aspect so we can see voaltile move in Bank Nifty. With US CPI data coming better than expected another gap up open will be seen and price  closed above 38263 waiting for targt of 38457/38652/38846,Trend is firmly on Upside with just 5% from All time High we cannot say its a Bear Market Rally. We have been long and avioded any shorts in anticiapation, Always try to be Reactive trader rather than being a Predictive trader. For Swing Traders Bulls will get active above 38546 for a move towards 38741/38936/39132. Bears will get active below 38350 for a move towards 38155/38000/37729
Intraday time for reversal can be at  9:15/9:58/11:22/12:30/1/2:06   How to Find and Trade Intraday Reversal Times
Bank Nifty rollover cost @ 36814 and Rollover @73.2 % Closed above the rollover level suggesting bias is Bullish
Bank Nifty Aug Future Open Interest Volume is at 26.8 lakh with addition of 0.40 Lakh contract , with increase in Cost of Carry suggesting  Long positions were added today.
Jupiter Retrograde will end of 23 Novemeber so High 37414 and Low of 37028 will be valid till 23 November, Break of ANy side will lead to minimum 1008 points move. — 1008 points done
#banknifty

another 1000 move 35170-36217-37263

#octave  Low made today 36250 and good bounce. 

38302 done as of now. 39480-38371-37263 is the levels now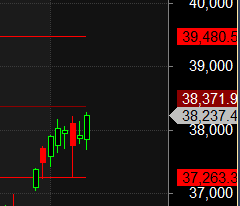 Maximum Call open interest of 25 lakh contracts was seen at 39000 strike, which will act as a crucial resistance level and Maximum PUT open interest of 23 lakh contracts was seen at 38000 strike, which will act as a crucial Support level
MAX Pain is at 38200 and PCR @1.02 . PCR below 0.95 and above 1.3 lead to trending moves, and in between leads to range bound markets.
The mind is mischievous and it often is the primary cause of failures. The market is always creating noises and if a trader fails to control his inner noises, how can he listen to what the market is trying to tell him?
For
Positional Traders
Trend Change Level is
3869 on Futures
and go long and short above/below it That will help you stay on the side of Institutions and which has a greater risk-reward ratio. For Intraday Traders
38352
will act as a
Intraday Trend Change Level. 
Buy Above 38529 Tgt 38656, 38800 and 3838920 66 (Bank Nifty Spot Levels)
Sell Below 38400 Tgt 38300, 38125 and 38000

(Bank Nifty Spot Levels)
Upper End of Expiry : 38894
Lower End of Expiry : 38105
As always I wish you maximum health and trading success