FII sold 281 contract of Index Future worth 17 cores, Net OI has increased by 6.5 K contract 3.1 K Long contract were addded by FII and 3.4 K Shorts were added by FII. Net FII Long Short ratio at 0.17 so FII used fall to enter long and enter short in Index Futures.
NIfty has been consolidating in last 2 session with High Intensity Astro Date involving Sun and Moon on 21 we can see big move in Nifty in next 2 trading sessions.For Swing traders Bulls need to move above 15430 for a move towards 15491/15555/15614/15676. Bears will get active below 15276 for a move towards 15214/15152/15090/15028.
Intraday time for reversal can be at 9:39/10:21/11:02/12:49/1:10/2:06   How to Find and Trade Intraday Reversal Times
MAX Pain is at 15400 PCR at 0.87 PCR below 0.89 and above 1.3 lead to trending moves, and in between leads to range bound markets.Nifty rollover cost @ 16139and Rollover @69.6 %.
Nifty May Future Open Interest Volume is at 1.01 Cores with liquidation of 5 Lakh with increase in cost of carry suggesting Short positions were closed today.
Maximum Call open interest of 28 lakh contracts was seen at 15500 strike, which will act as a crucial resistance level and Maximum PUT open interest of 31 lakh contracts was seen at 15300 strike, which will act as a crucial Support level
FII's sold 1217 cores and DII's bought 2039 cores in cash segment.INR closed at 78.05
Retailers have bought 446 K CE contracts and 399 K CE contracts were shorted by them on Put Side Retailers bought 411 K PE contracts and 365 K PE shorted contracts were added by them suggesting having Neutral outlook,On Flip Side FII sold 20.4 K CE contracts and 14.6 K CE were shorted by them, On Put side FII's bought 16.5 K PE and 49.5 K PE were shorted by them suggesting they have a turned to Bullish Bias.
As per Musical Octave 15430 Nifty can rally towards 15642 . Bears below 15203 will have upper hand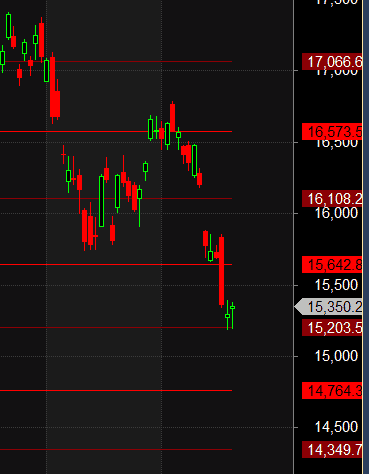 I go with premise that equity cycle is a delayed FnO cycle – and high activity in equities generally indicate culmination of that particular cycle. 20 Dec FII sold 3565 cr 08 Mar 8142 cr 17 Jun 7818 cr FII Highest sell figure leads to short term bottom in
#nifty50
The mind is mischievous and it often is the primary cause of failures.The market is always creating noises and if a trader fails to control his inner noises, how can he listen to what the market is trying to tell him?
For Positional Traders Stay long till we are holding Trend Change Level 15478  and stay short below it. That will help you stay on the side of Institutions and which has a greater risk-reward ratio. For Intraday Traders 15308  will act as a Intraday Trend Change Level.
Buy Above 15400 Tgt 15424, 15450 and 15476 (Nifty Spot Levels)
Sell Below 15305 Tgt 15280, 15255 and 15225 (Nifty Spot Levels)
As always I wish you maximum health and trading success