FII sold 95  contract of Index Future worth 11.62 cores, Net OI has increased by 1.8 K contract 7.5 K Long contract were covered by FII and 978  Shorts were added by FII. Net FII Long Short ratio at 0.12 so FII used rise to exit long and enter short in Index Futures.
As discussed in Last Analysis  For Swing traders Bulls need to move above 15784 for a move towards 15847/15909/15972. Bears will get active below 15669 for a move towards 15606/15543/15480. We have 7 important astro date tommrow suggesting it will be high intesity date as discuused  in below video most important are the Bayers date Bayer Rule 6: The price is in bottom/top when Mars was in 16 degrees 35 minutes of some sign and plus 30 degrees.Bayer Rule 27: Big tops and big major bottoms are when Mercury's speed in Geocentric longitude is 59 minutes or 1 degree 58 minutes. Nifty is near gann angle and formed NR7 pattern today. For Swing traders Bulls need to move above 15847 for a move towards 15909/15972/16034/16097. Bears will get active below 15634 for a move towards 15571/15508/15545. 
Intraday time for reversal can be at 9:58/11:01/12:43/1:19/2:10  How to Find and Trade Intraday Reversal Times
MAX Pain is at 15800 PCR at 0.77 PCR below 0.89 and above 1.3 lead to trending moves, and in between leads to range bound markets.Nifty rollover cost @ 16139and Rollover @69.6 %.
Nifty May Future Open Interest Volume is at 1.05 Cores with liquidation of 2.1 Lakh with increase in cost of carry suggesting SHort positions were closed today.
Maximum Call open interest of 28 lakh contracts was seen at 15900 strike, which will act as a crucial resistance level and Maximum PUT open interest of 31 lakh contracts was seen at 15500 strike, which will act as a crucial Support level
FII's sold 3561 cores and DII's bought 2588 cores in cash segment.INR closed at 78.31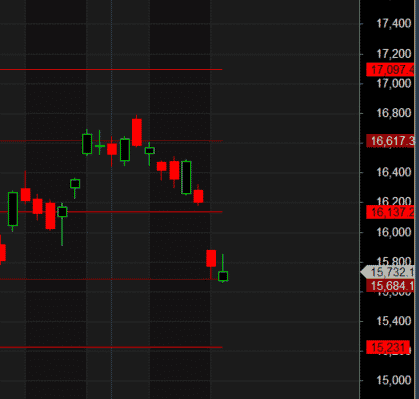 #NIFTY50
IS READY FOR another 453 points move .. Holding 15684 rise towards 16137 Break of 15684 fall towards 15231. Able to Hold 15684.
Retailers have sold 49.4  K CE contracts and 12.3 K CE contracts were shorted by them on Put Side Retailers bought 173 K PE contracts and 142 K PE shorted contracts were added by them suggesting having BEARISH outlook,On Flip Side FII bought 19.5 K CE contracts and 1.5 K CE were shorted by them, On Put side FII's bought 37.8 K PE and 29 K PE were shorted by them suggesting they have a turned to neutral Bias.
The most common fault in trading is overthinking—dwelling on the past and not keeping to the trading plan. Besides thinking too much, a trader may believe he is always correct and will refuse to accept the reality of the market. Thus, he should make extra effort to understand more of himself and his emotion, so that he will trade better and feel better.
For Positional Traders Stay long till we are holding Trend Change Level 16310 and stay short below it. That will help you stay on the side of Institutions and which has a greater risk-reward ratio. For Intraday Traders 15742 will act as a Intraday Trend Change Level.
Buy Above 15760 Tgt 15799, 15840 and 15888 (Nifty Spot Levels)
Sell Below 15714 Tgt 15685, 15650 and 15610 (Nifty Spot Levels)
Upper End of Expiry : 15890
Lower End of Expiry : 15525
As always I wish you maximum health and trading success