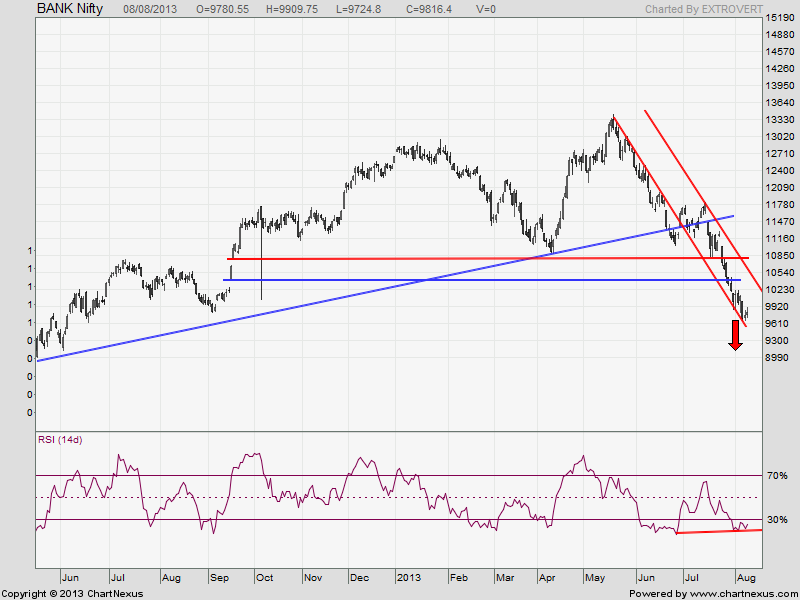 RBI maintained "Status Quo" in the RBI policy, Weekly Trend Deciding level of 10105 achieved the second target on downside   Cool 355 Points pocked by positional traders during the week  :). Lets see how Bank Nifty Technical are shaping out and are we seeing a relief rally chances?

Bank Nifty Hourly
Bank Nifty on hourly chart  is trading in a perfect down trending channel. close above  of 9846 on hourly basis the relief rally can start else we can going sub 9400 levels.
Bank Nifty Daily
Bank Nifty is trading at 12 month low and has broken each and every support on downside.Technical chart have been totally decimated and all relief rallies are getting sold into. Only good news for Bulls is Bank Nifty is trying to maintain the lower end of down trending channel as shown in below chart and also formed double doji pattern in past 2 trading session. Holding the same for next 2 days moving above Bank Nifty choapd levels relief rally can be seen.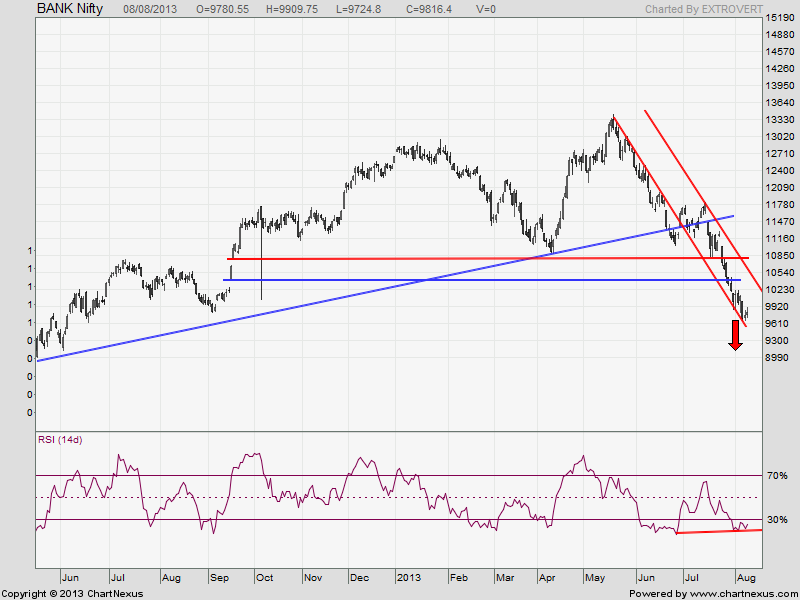 Bank Nifty Fibo Fans
Fibo Fans has been applied on Bank Nifty weekly charts and is near the last support of 9660, Unable to hold the same we can go lower till 9000 sub levels in medium term.
 Bank Nifty Fibo Retracement
Bank Nifty closed near the golden ratio of 61.8% looks very important next week. If holds then possible bounce back, else may fall to next level 78.6% or 8975 as shown on chart.
Bank Nifty Weekly
Bank Nifty on WoW basis was down by 181  points and closed  @9816, Bank Nifty is entering the demand zone as shown in above chart. Trades carrying short can book in this range and long should be taken above Bank Nifty Chopad level of 9846.
Bank Nifty Monthly
Monthly charts are also entering the demand zone/support area. Higher time frame near support area signify holding 9800 on closing basis 300-400 points rally can turn up in coming week.
 Bank Nifty Trading Levels
Bank Nifty Trend Deciding Level:9846

Bank Nifty Resistance:9976,10106 and 10236

Bank Nifty Support:9716,9612,9456
Levels mentioned are Bank Nifty Spot
Let me go by Disclaimer these are my personal views and trade taken on these observation should be traded with strict Sl
We do discussion is Live market to update Nifty levels If you are interested you can LIKE the page to get Real Time Updates.
Follow on Facebook during Market Hours:  https://www.facebook.com/pages/Brameshs-Tech/140117182685863