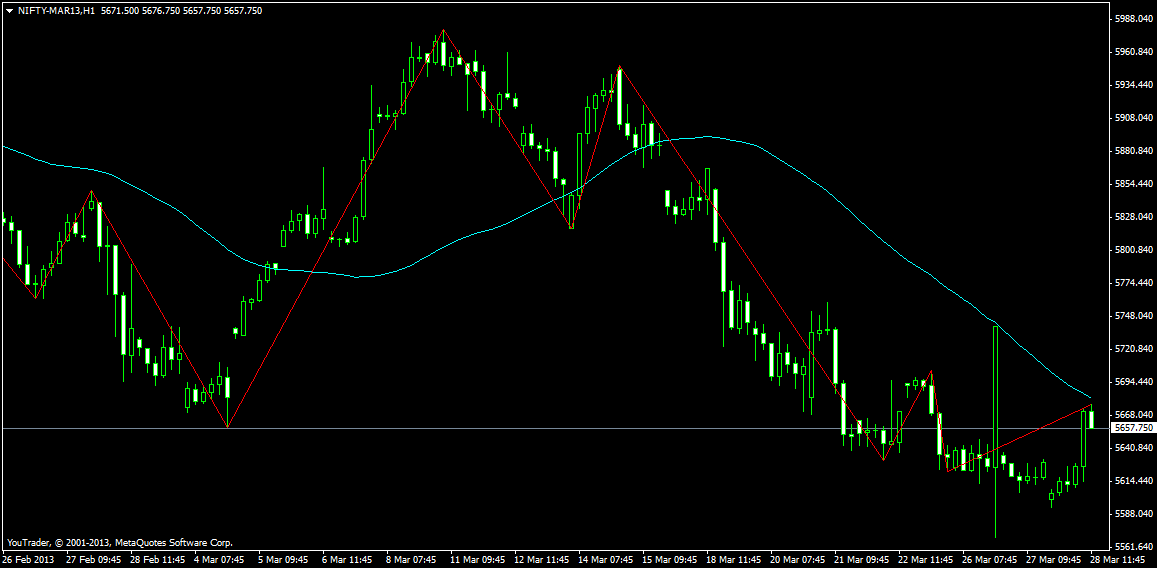 Stock Market has a woobly roller coaster ride last week opening with a gap after Cyprus Drama came to an end, giving up gains after SP Supremo,Mulayam Singh threatened to withdraw support to the ruling coalition and finally gave an expected pullback on derivative expiry,Nifty ended  up by 0.6% or 31 points  WoW basis
The first quarter of 2013 ended on quite disappointing as  Sensex and the Nifty are down around 3 per cent. The cut is, however, sharper in smaller stocks with the BSE Small-cap Index down 21 per cent and the Mid-cap Index down 13 per cent in this period.
Last week we gave Trend Deciding level as 5620 Nifty made the low of 5604 turned back, achieved 1weekly targets on upside. Traders following Weekly trend deciding level should have exited shorts as discussed last week.
 Nifty Hourly Chart
Nifty Hourly charts as per Zig Zag Indicator is trading on the upper end of resistance (marked in red line) and also facing resistance at 50 HMA at 5690, close above this only can add bull power else rally will be short lived,
 Nifty Gaps

For Nifty traders who follow gap trading there are 1 trade gaps in the range of  5700-6000 and all other gaps got filled.
Nifty Daily Chart
Nifty daily chart has taken support at 200 DMA (shown in 2 chart) as discussed last week and we saw the expected pullback near the end of derivative expiry,but bulls are still not out of woods as strong trendline resistance exists at 5703 as shown in below chart,marked with red arrows.
Nifty daily chart as per Fibo Fans is forming resistance and cross above 5702 is essential for the rally to continue.
 Fibo Retracement
As per of Fibo Retracement theory Resistance at 5666 which is 80% retracement holding and closing above the same bounceback can be seen till 5762

Nifty Weekly Chart
Nifty closed the week positive  with gain of 31 points @5682.Nifty took support at 5604 range where we have seen pullback before also and gave the expected pullback.
As per Fibo Channels shown in below chart nifty has closed above the 3 fibo channel line on weekly basis which is a bullish sign.
Monthly chart have taken support at rising trend line and closed above the level of 5640 which suggests bear power weakening.Longs should keep sl of 5604,
 Nifty Trading Levels
Nifty Trend Deciding Level:5703

Nifty Resistance:5732,5762 and 5836

Nifty Support:5655,5600 and 5550
Levels mentioned are Nifty Spot
Let me go by Disclaimer these are my personal views and trade taken on these observation should be traded with strict Sl
We do discussion is Live market to update Nifty levels If you are interested you can LIKE the page to get Real Time Updates.
Follow on Facebook during Market Hours:  https://www.facebook.com/pages/Brameshs-Tech/140117182685863