FII sold 797 contract of Index Future worth  72 cores, Net OI has increased by 3.5 K contract 2.3 K Long contract were added by FII and 3.1 K Shorts were added by FII. Net FII Long Short ratio at 0.70 so FII used fall to enter Long and enter short in Index Futures.
SUN Trine Uranus is very important aspect, If yesterday low of markets are held we can see sharp upmove as multiple lunar aspet and Bayers rule are coming in weekend. Also price is back to 17992 which is mercury retrograde low and closed at it. 
Bayer Rule 22: The trend changes if retrograde Mercury passes over the Sun. Sun Conjuct Rx Mer

MERCURY'S DAILY SPEED IN GEOCENTRIC LONGITUDE

FULL MOON

MOON DECLINATION
We will see impact of Astro Dates on Monday with Nifty opening gap up, Will we sustain the gap 15 mins High and Low will decide. Price has again bounced from 50 % point and formed a tripple bottom .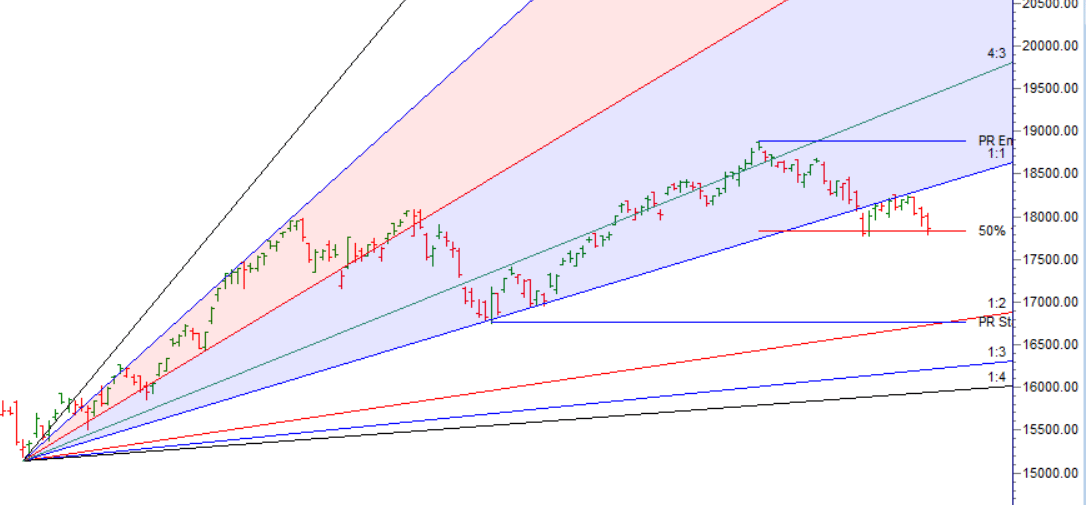 Till Nifty is below 18066 target are 17957/17893. All 3 target  done. 
For Swing Traders Bulls need to move above 18062 for a move towards 18130/18197/18265. Bears will get active below 17927 for a move towards 17859/17792/17724.
MAX Pain is at 17800 PCR at 0.85Markets tend be range-bound when PCR OI (Open Interest) ranges between 0.90 and 1.05. 
Maximum Call open interest of 22 lakh contracts was seen at 18000 strike, which will act as a crucial resistance level and Maximum PUT open interest of 22 lakh contracts was seen at 17800 strike, which will act as a crucial Support level
Nifty Jan Future Open Interest Volume is at  1.15 Cr with addition of 3.6 Lakh with increase in Cost of Carry suggesting Long positions were added today.
Retailers have bought 182 K CE contracts and 175 K CE contracts were shorted by them on Put Side Retailers bought 701 K PE contracts and 816 K PE shorted contracts were added by them suggesting having BULLISH outlook.
FII bought 253 K CE contracts and 236 K CE were shorted by them, On Put side FII's bought 183 K PE and 73.4 K PE were shorted by them suggesting they have a turned to neutral Bias.FII have bought 13K cr worth of options suggesting we are going to see trending move.
Nifty Rollover cost @18178 and Rollover % @72.5  Closed below it. 
Nifty has again bounced from 50% point now need close above 18066 for trend to change from SELL of RISE to BUY on DIPS.
FII's sold 2902 cores and DII's bought 1083 cores in cash segment.INR closed at 81.57
#NIFTY50  as per musical octave trading path can be 17538-17804-18072 take the side and ride the move !!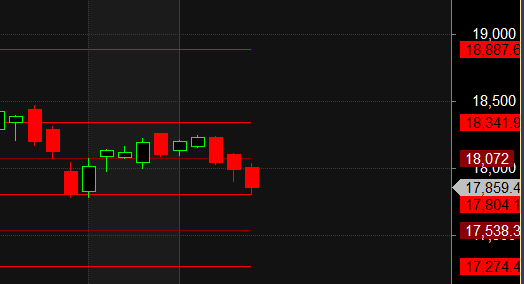 By implementing contingency planning, you can take swift, decisive action the instant one of your positions changes its behaviour or is hit with an unexpected event.
Positional Traders Trend Change Level is 18171 on Futures go long and short above/below it That will help you stay on the side of Institutions and which has a greater risk-reward ratio. Intraday Traders 17983 will act as a Intraday Trend Change Level.
Intraday Trading Levels
Buy Above 18006 Tgt 18056, 18099 and 18125(Nifty Spot Levels)
Sell Below 17918 Tgt 17881, 17856 and 17816 (Nifty Spot Levels)
As always I wish you maximum health and trading success