Analysis of FIIs' behavior in the Nifty Index Futures market shows a Bullish approach as they displayed a preference for LONG  positions. On a net basis, FIIs went LONG 408 contracts worth 39 crores, resulting in an decrease of 2504 contracts in the Net Open Interest.
Nifty made a high of 19464 near 62.5 % @ 19470 on Venus Ingress, Bayer Rule 14: VENUS MOVEMENTS IN GEOCENTRIC LONGITUDE USING A UNIT OF 1*913 and Moon at 0 Declination are 2 important events happening tomorrow. Nifty has also formed an NR7 pattern today and Gann Price Time Symmetry also forming as discussed in below video suggesting we are in for a trending move in next 2 trading session. For Intraday traders watch out for first 15 mins High and Low to capture trend of the day.
Happy Dhanteras to all Blog reader !!
We have Mercury Ingress today, as discussed in the video below, and we anticipate an opening with a gap down. Gann Price Time Symmetryas discussed in below is still valid as price is still not able to close above 19470 . Mercury has Highest influence on Nifty due to Reliance Weightage. Clear trigger levels are outlined for both the buy and sell sides.
Always remember, trading is about probability, not certainty.
Nifty Trade Plan for Positional Trade ,Bulls will get active above 19470 for a move towards 19529/19610. Bears will get active below 19321 for a move towards 19224/19108. Nifty formed a Double top pattern at Gann 62.5 % retracement level. 
Traders may watch out for potential intraday reversals at 9:28, 10:00,11:49,1:07,2:27 How to Find and Trade Intraday Reversal Times
Nifty Nov Futures Open Interest Volume stood at 1.13 lakh cr , witnessing a addition of 3.6 lakh contracts. Additionally, the increase in Cost of Carry implies that there was a closeure of LONG positions today.
Nifty Advance Decline Ratio at 21:29 and Nifty Rollover Cost is @19372 closed below it.
Nifty Gann Monthly Trend Change Level : 19224 
Nifty is near its 20 DMA, Fight on to close above 19410-19455 zone. Any break of 19410 will lead to fall towards 19320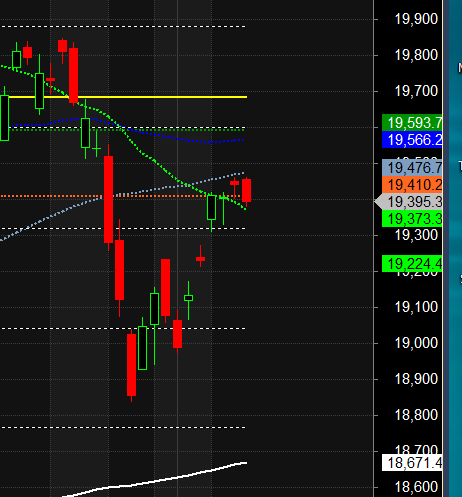 Nifty options chain shows that the maximum pain point is at 19400 and the put-call ratio (PCR) is at 0.95. Typically, when the PCR open interest ranges between 0.90 and 1.05, the market tends to remain range-bound.
Nifty 50 Options Chain Analysis
The Nifty 50 options chain indicates that the highest open interest (OI) on the call side is at the 19500 strike, followed by 19600  strikes. On the put side, the highest OI is at the 19300 strike, followed by 19200   strikes. This suggests that the market participants are expecting Nifty 50 to remain range between 19300-19600  levels.
In the cash segment, Foreign Institutional Investors (FII) sold 1712 crores, while Domestic Institutional Investors (DII) bought 1512 crores.
Traders who follow the musical octave trading path may find valuable insights in predicting Nifty's movements. According to this path, Nifty may follow a path of 18890-19452-20014 This means that traders can take a position and potentially ride the move as Nifty moves through these levels.Of course, it's important to keep in mind that trading is inherently risky and market movements can be unpredictable.
"Years of practice at the game, of constant study, of always remembering, enable the trader to act on the instant when the unexpected happens as well as when the expected comes to pass."
For Positional Traders, The Nifty Futures' Trend Change Level is At 19269 . Going Long Or Short Above Or Below This Level Can Help Them Stay On The Same Side As Institutions, With A Higher Risk-reward Ratio. Intraday Traders Can Keep An Eye On 19498, Which Acts As An Intraday Trend Change Level.
Nifty Intraday Trading Levels
Buy Above 19361 Tgt 19400, 19424  and 19450 (  Nifty Spot Levels)
Sell Below 19321  Tgt 19285, 19255 and 19220 ( Nifty Spot Levels)
Wishing you good health and trading success as always.As always, prioritize your health and trade with caution.
As always, it's essential to closely monitor market movements and make informed decisions based on a well-thought-out trading plan and risk management strategy. Market conditions can change rapidly, and it's crucial to be adaptable and cautious in your approach.