Analysis of FIIs' behavior in the Nifty Index Futures market shows a Bullish approach as they displayed a preference for Long positions. On a net basis, FIIs went long 1496 contracts worth 159 crores, resulting in an increase of 4044 contracts in the Net Open Interest. Additionally, they bought 7028 long contracts and added 2303 short contracts, indicating a strategy of adding long positions and adding short positions.
The FII Long Short Ratio currently stands at 48.5 %, and the FII Long to Short Ratio is at 2.2 , indicating that FIIs have substantially reduced their positions in the market and have utilized the market rise to enter long positions and enter short positions in Nifty Futures.
FOMC Intrerst Rate Decision will come tommrow evening and today we saw a good recovery in Nifty from lower levels, For trending move to come price needs to close below 19658 or above 19782 which are Venus Ingress High and low on closing basis. In Between Sideways Action will continue. FII buying 30K Option Buying suggesting Directional Move can come. 
Fed raises interest rates by 25 BPS
There are some important astrological dates tomorrow, so the first 15 minutes' high and low can provide guidance for the day's market direction.Additionally, the market is likely to react to the FOMC (Federal Open Market Committee) decision.
Astrological analysis can be an interesting way to observe potential market movements.
Regarding astrological aspects, "Bayer Rule 21 (variation C)" suggests that strong moves may occur within 5-8 days when retrograde Venus makes a conjunction with retrograde Mercury. The Venus Conjunct Mercury aspect is considered very important for short-term swings in the market. Similarly, the Mercury Trine North Node aspect is also deemed significant for short-term swings.
Price has again close above  19682, Tommrow 19803 will play a crucial level, Above 19803 move can be towards 19850/19897/19944. Below 19803 fall towards 19756/19709/19662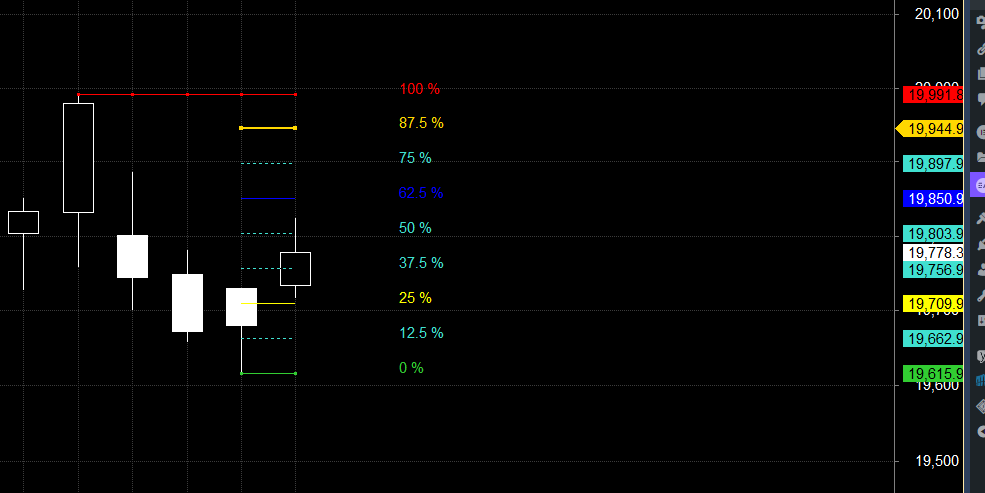 Traders may watch out for potential intraday reversals at 10:11,12:40,1:22,1:58  How to Find and Trade Intraday Reversal Times
Nifty July Futures Open Interest Volume stood at 0.67 lakh, witnessing a liquidation of 18.6 lakh contracts. Additionally, the increase in Cost of Carry implies that there was a covering of LONG positions today.
Nifty Advance Decline Ratio at 39:11  and Nifty Rollover Cost is @18884  and Rollover is at 69.7 %.
Nifty options chain shows that the maximum pain point is at 19700 and the put-call ratio (PCR) is at 0.89. Typically, when the PCR open interest ranges between 0.90 and 1.05, the market tends to remain range-bound.
Nifty 50 Options Chain Analysis
The Nifty 50 options chain indicates that the highest open interest (OI) on the call side is at the 19800 strike, followed by 19900 strikes. On the put side, the highest OI is at the 19700 strike, followed by 19600  strikes. Total Calls OI is 7.4 CR  and Total Put OI is 4.8  CR,  This suggests that the market participants are expecting Nifty 50 to remain range between 19600-19900 levels.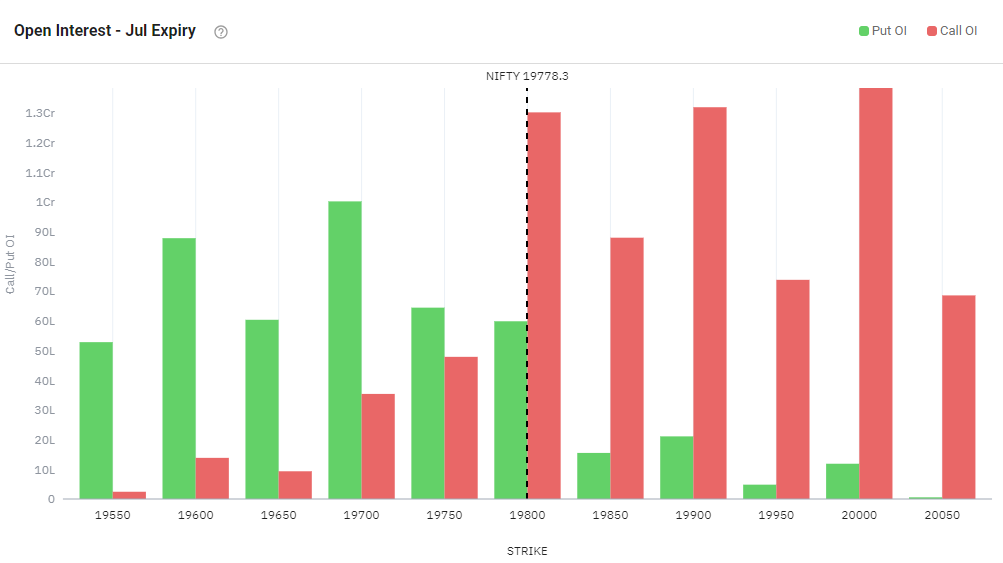 According To Todays Data, Retailers Have sold 37 K Call Option Contracts And 68 K Shorted Call Option Contracts Were covered by them. Additionally, bought 865 K Put Option Contracts And 697 K Shorted Put Option Contracts were covered by them, Indicating A BEARISH Outlook.
In Contrast, Foreign Institutional Investors (FIIs) sold 4 Call Option Contracts And 44  K Call Option Contracts Were Shorted by them. On The Put Side, FIIs sold 25 K Put Option Contracts And 71 K Put Option Contracts were Shorted by them, Suggesting They Have Turned To A Bullish Bias.
In the cash segment, Foreign Institutional Investors (FII) bought 922   crores, while Domestic Institutional Investors (DII) bought 470 crores.
Traders who follow the musical octave trading path may find valuable insights in predicting Nifty's movements. According to this path, Nifty may follow a path of 18890-19452-20014 This means that traders can take a position and potentially ride the move as Nifty moves through these levels.Of course, it's important to keep in mind that trading is inherently risky and market movements can be unpredictable.Price took resistance near 20014 and have seen fall towards 19680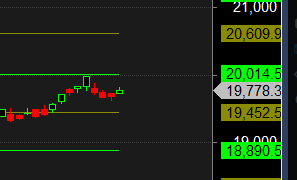 To make One Good Trade you must prepare properly, work hard, and have patience
For Positional Traders, The Nifty Futures' Trend Change Level is At 19560 . Going Long Or Short Above Or Below This Level Can Help Them Stay On The Same Side As Institutions, With A Higher Risk-reward Ratio. Intraday Traders Can Keep An Eye On 19787 , Which Acts As An Intraday Trend Change Level.
Intraday Trading Levels
Buy Above 19800 Tgt 19830, 19886 and 19950 (Nifty Spot Levels)
Sell Below 19770 Tgt 19729, 19669 and 19624 (Nifty Spot Levels)
Upper End of Expiry : 19886
Lower End of Expiry : 19669
Wishing you good health and trading success as always.As always, prioritize your health and trade with caution.
As always, it's essential to closely monitor market movements and make informed decisions based on a well-thought-out trading plan and risk management strategy. Market conditions can change rapidly, and it's crucial to be adaptable and cautious in your approach.