FII sold 2.8 K contract of Index Future worth  262 cores, Net OI has increased by 732 contract 925 K Long contract were covered by FII and 1.6 K Shorts were added by FII. Net FII Long Short ratio at 0.34 so FII used rise to enter Long and exit  short in Index Futures.
As discussed in Last Analysis  Nifty has closed above 50 % Gann Retracement and coming to crucial range of 17972 Budget day High which need to be watched closely. Also we have closed above Mercury Ingress High. Equity buying/selling is delayed cycle to the FnO cycle. First FII take long positions in FnO – Then they will start buying equities to induce a rally – and then they will start liquidating the FnO longs. FII's have been buying from last few trading sessions.
We got the move as discussed, We have important astro events happening tommrow as discussed below and nifty isabove 50% point so be ready for big move above 18070. Tommrow being Weekly Expiry Settlement generally happens which cause pain to most of the crowd. Last Expiry close was 17916 till above this BUlls have upper hand.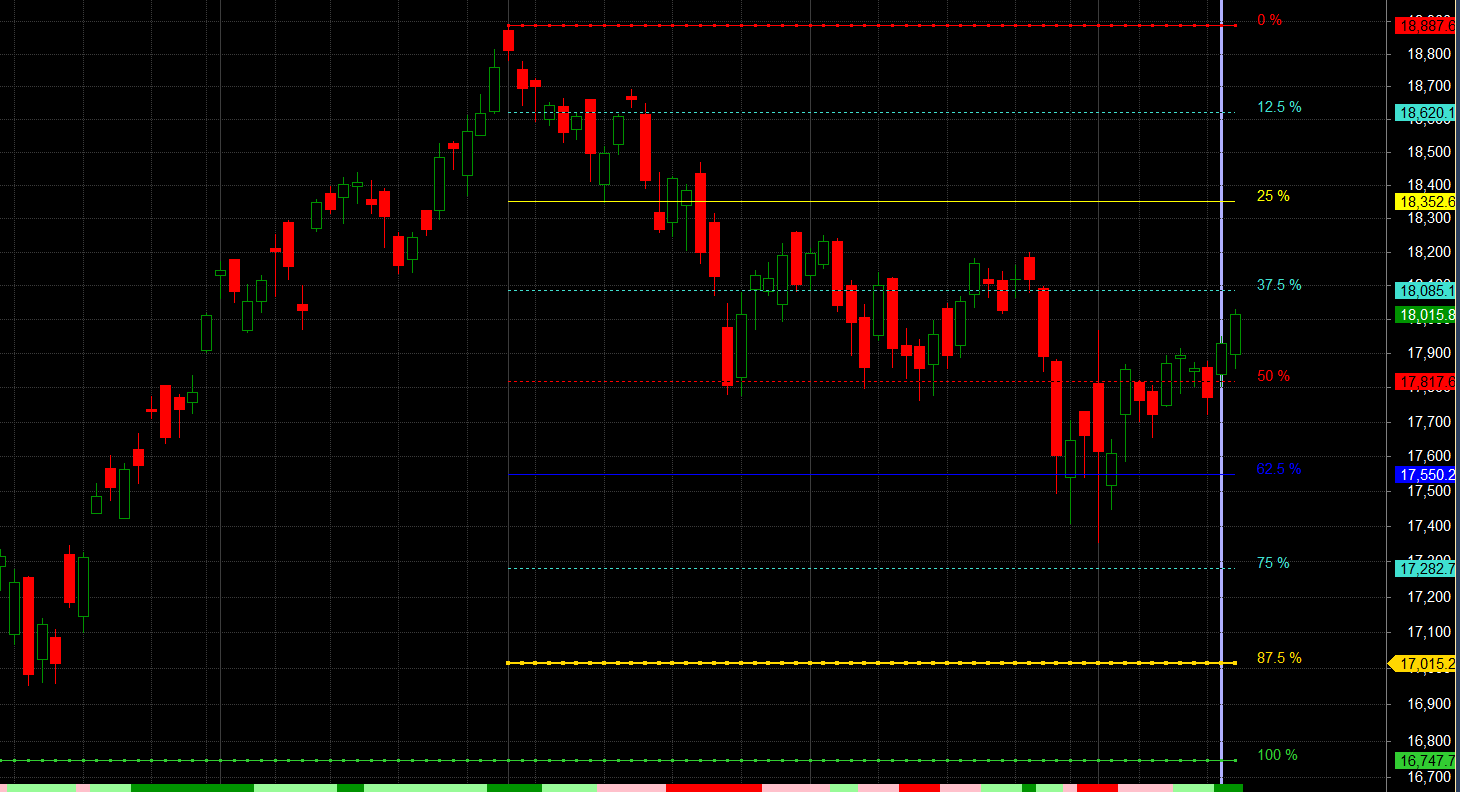 Nifty Trade Plan as per NR21 Pattern, All target done. 
MAX Pain is at 17950 PCR at 0.97 Markets tend be range-bound when PCR OI (Open Interest) ranges between 0.90 and 1.05. 
Maximum Call open interest of 33 lakh contracts was seen at 18100 strike, which will act as a crucial resistance level and Maximum PUT open interest of 72 lakh contracts was seen at 17800 strike, which will act as a crucial Support level
Retailers have bought 330 K CE contracts and 303 K CE contracts were shorted by them on Put Side Retailers bought 889 K PE contracts and 725 K PE shorted contracts were added by them suggesting having BEARISH outlook.
FII bought 22.1 K CE contracts and 25.3 K CE were shorted by them, On Put side FII's bought 59.5 PE and 41.4 K PE were shorted by them suggesting they have a turned to BULLISH Bias.
Nifty Bulls were able to break 17898-17908 now waiting  for an explosive move on Upside. Bears need to break 17843.
FII's bought 432 cores and DII's bought 516 cores in cash segment.INR closed at 82.60
#NIFTY50  as per musical octave trading path can be 17884-18152   take the side and ride the move !!
Trade price action not opinions. Be quick to cut losses and patient to ride winners. Getting stuck on what you think should happen could be fatal when the market disagrees with you.
Positional Traders Trend Change Level is 17814 on Futures go long and short above/below it That will help you stay on the side of Institutions and which has a greater risk-reward ratio. Intraday Traders 17902 will act as a Intraday Trend Change Level.
Intraday Trading Levels
Buy Above 18040 Tgt 18075, 18108  and 18148 (Nifty Spot Levels)
Sell Below 17991 Tgt 17965, 17920 and 17885 (Nifty Spot Levels)
Upper End of Expiry : 18142
Lower End of Expiry : 17887 
As always I wish you maximum health and trading success