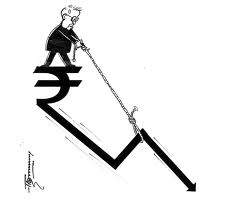 The rupee crossed 63  to a dollar again as discussed in our USD INR Forecast. This should not be surprising given that the demand for dollars is much more than their supply.
So now question lies Can Rupee touch 65 in medium term. Let me answer the question for you talking on both Fundamental and Technical of INR.
The trade deficit for the month of April 2013 had stood at $17.8 billion. If we add this to the trade deficit of $20.1 billion for the month of May 2013, we get a trade deficit of nearly $38 billion for the first two months of the year.  With the way things currently are it is safe to say that the trade deficit for 2013-2014(or the period between April 1, 2013 and March 31, 2014) is likely to be similar to that of last year, if not higher.Also the way crude is rising its likely to put more pressure on Fiscal deficit.Indian Government has foreign debt of $172 billion that needs to be repaid during 2013-2014. Also FII which are on selling spree are likely to pull out more money for Equity and Debt market.The foreign investors pulled out investments worth more than Rs 44,000 crore or around $7.53 billion, from the Indian bond and stock markets during the month of June, 2013.
Things are not looking good on the trade deficit front as well. Trade deficit is the difference between imports and exports. Indian imports during the month of May 2013, stood at $44.65 billion. Exports fell by 1.1% to $24.51 billion. This meant that India had a trade deficit of more than $20 billion. Trade deficit for the year 2012-2013 (i.e. the period between April 1, 2012 and March 31, 2013) had stood at $191 billion. The broader point is that India is not exporting enough to earn a sufficient amount of dollars to pay for its imports.
External commercial borrowings of $21 billion raised by companies need to be repaid before March 31, 2014. Companies which have cash, might look to repay their foreign loans sooner rather than later. This is simply because as the rupee depreciates against the dollar, it takes a greater amount of rupees to buy dollars which will again increase demand of dollar.
This is likely to continue in the days to come given that the Federal Reserve of United States, the American central bank, has indicated that it will go slow on printing dollars in the days to come. This means that interest rates in the United States are likely to go up, and thus close a cheap source of funding for the foreign investors.
NRI's who have been putting money in India as Interest rates offered on bank deposits continue to remain high are likely to ut on Hold on their investments and likely to pull out money for India,Let me elaborate with an Example
An NRI invests $10,000 in India. At the point he gets money into India $1 is worth Rs 55. So $10,000 when converted into rupees, amounts to Rs 5.5 lakh. This money lets assume is invested at an interest rate of 10%. A year later Rs 5.5 lakh has grown to Rs 6.05 lakh (Rs 5.5 lakh + 10% interest on Rs 5.5 lakh). The NRI now has to repatriate this money back. At this point of time lets say $1 is worth Rs 60. So when the NRI converts rupees into dollars he gets $10,080 or more or less the same amount of money that he had invested.
In short, the demand for dollars is likely to continue to be more than their supply in the time to come. This will ensure that the rupee will keep depreciating against the dollar.
Technically Also Dollar will give a breakout of channel above 61.8 as seen in below chart.