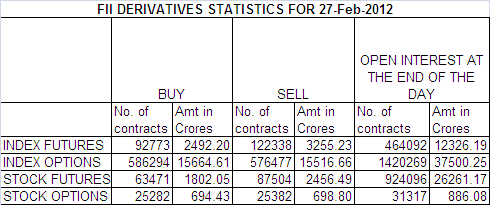 Below is my Interpretation of FII OI data Sheet for 27-Feb-12.
Today was the day many bears might have rejoiced if they are still holding the shorts 😉 It was a relentless fall in recent times with no pullback coming,Another thing to note is correction always come point to point which basically traps a intraday trader and he need to square off his position if he do not have a holding power.
1. FII sold   29565  Contracts of NF worth 763.03  cores OI also decreasing  by 24841 contracts.

2. As Nifty Futures was down by 148  points (Biggest fall in past 6 months) and OI has decreased by 28421  contracts means profit booking in shorts. We had already pointed out in 24 Feb analysis that FII has started shorting the index. But today they has booked profits and have not entered in fresh shorts.
3. Correction are always fast and furious which can be acknowledged from the fact that Nifty took 12 trading days to move from 5280-5630 which got retraced in just 4 trading session. Thats the reason traders love falling market as it gives you quick money 😉 provided you are on right side of trade.
4. Nifty has broken 20 SMA@5285,5320 in a single day next important support comes at 5211 which is 61.8% retracement of whole rise from 4532-6530.
After such a rise of 1000 points such pullbacks are normal and should be treated as corrections only till now.

5. Nifty March  OI has decreased   by 5  lakh .Total OI stands at 2.48 cores  contracts. Shorts have booked out today.

6.Total F&O turnover was whopping 1 Lakh cores with highest contract  traded in March series 413885 .For reversal we need to see a volume climax which we did on Expiry day with Total turnover at 2.24 lakh cores. Today Turnover was very low for a day when Nifty corrected 148 points. It basically means weak hands are pushed out of system.
7. FII average selling price comes at 5161 basically signifying they did lot of day trading today so no positional commitments till now.
8. In equity FII bought 329 cores DII sold 699 cores. FII are still buying the dips.
9. 5600 CE is having highest OI of  37  Lakhs seems 5300 PE having highest OI of 64 lakhs. Even Nifty closed below 5300 still the OI of 5300 PE saw an addition of 10 lakhs.
10. Question in everyone mind why NF premium is still 60 Points even if we got 148 points fall. I feel today fall was to move of weak hand in markets and market could start its upward journey from tomorrow till monthly closing to make a double top in coming days(This is a scenario which i am thinking which might go otherwise also)
11. FII SAR for Today 5311 NF March((For Positional Traders) and VWAP at 5442 NF (Below this Level Bears will rulle Nifty).
12. SAR level on 24 Feb was 5478 which coincidentally was high for NF today and it kept on falling :).

Let me go by Disclaimer these are my personal views and trade taken on these observation should be traded with strict Sl
We do discussion is Live market to update Nifty levels If you are interested you can LIKE the page to get Real Time Updates.
Follow on Facebook during Market Hours:  http://www.facebook.com/pages/Brameshs-Tech/140117182685863