Foreign Institutional Investors (FIIs) displayed a Bearish approach in the Bank Nifty Index Futures market by Shorting 11784 contracts worth 781 crores, resulting in a decrease  of 34152 contracts in the Net Open Interest.
Bank Nifty opened with a gap up and saw brutal selling in the last 1 hour, filling all the gap and forming an Outside Bar Candle with Bayer's Rule 38 showing its effect. Today, we have a very strong aspect between Jupiter and Saturn, along with a SuperMoon (Supermoon, a rare occurrence where the moon appears larger and brighter in the sky, last time it happened on 31 Jan 2018 and next it will happen in 2037.)as discussed in the video below. So, get ready for another explosive move today. Since today is the monthly closing and Bank  Nifty is closing below last month's low of 44547, it suggests that the 4-month rally is coming to a halt. Bears need a break below 44000 and bulls above 44800 for a trending move to occur; otherwise, the sideways movement will continue. Hopefully, in the next 2 days, we will break out of this range and start a big bang move in the month of September. Also, watch for the 3 PM candle today for an intraday move to capture.
Bank Nifty has finally closed below its 100 DMA. Today, Jupiter is going into extreme declination, and on the 4th of September, Jupiter will go retrograde. This indicates that financial stocks will be in the spotlight, so be prepared for an explosive move. Till Bank NIfty Bears are able to keep bank nifty below 44350 fall can extend towards 43000-43100 range Bulls will only have a chance if the price goes above 44350 for a move towards 44800.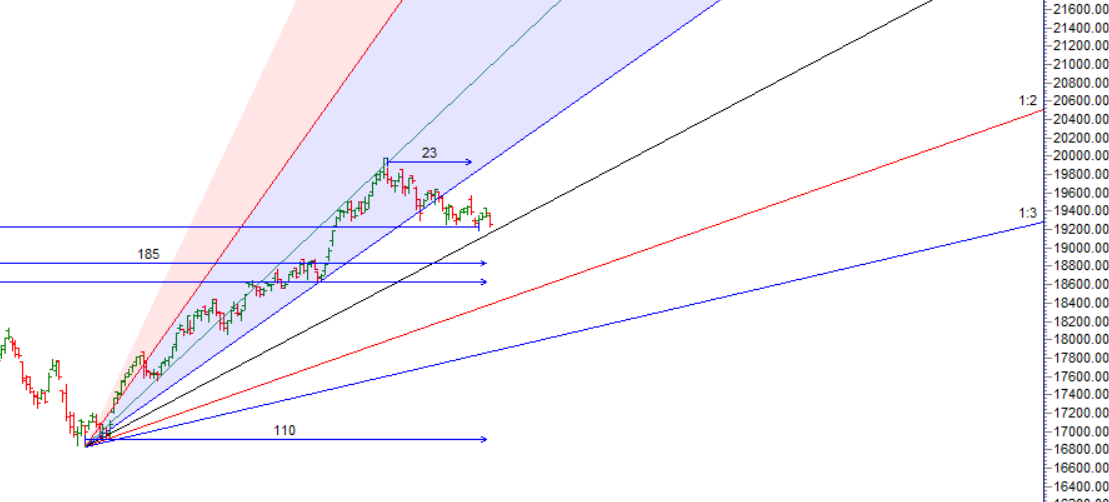 Bank Nifty Trade Plan based on Astro Date Bulls will get active above 44313 for a move towards 44525/44737/44949. . Bears will get active below44101   for a move towards 43889/43677/43465 — — Waiting for 43889/43677/43465
Traders may watch out for potential intraday reversals at 10:27,11:15,12:22,1:22,2:07 How to Find and Trade Intraday Reversal Times
Bank Nifty Sep Futures Open Interest Volume stood at 11.6 lakh, addition of 2.3 lakh contracts. Additionally, the increase in Cost of Carry implies that there was a addition of SHORT positions today.
Bank Nifty Advance Decline Ratio at 02:10 and Bank  Nifty Rollover Cost is @44639 and Rollover is at 72.4%
Bank Nifty 100 DMA @ 44066 and closed below it.
Traders who follow the musical octave trading path may find valuable insights in predicting Bank Nifty's movements. According to this path, Bank Nifty may follow a path of 43444-44634-45923 . This means that traders can take a position and potentially ride the move as Bank Nifty moves through these levels. Of course, it's important to keep in mind that trading is inherently risky and market movements can be unpredictable.  Price again reacted from 44634 
According to the Bank Nifty options chain, the call side has the highest open interest (OI) at the 44500 strike, followed by the 44300 strike. On the put side, the 43800 strike has the highest OI, followed by the 43500 strike.This indicates that market participants anticipate Bank Nifty to stay within the 43500-44200 range.
The Bank Nifty options chain shows that the maximum pain point is at 44000 and the put-call ratio (PCR) is at 0.70. Typically, when the PCR open interest ranges between 0.90 and 1.05, the market tends to remain range-bound. PCR is on extreme end suggesting we can see sharp reversal .
Our sense of self is enhanced by size, be it in trading large numbers, living in a big house, driving a big car, or owning a big boat. Our egos swell in proportion to the bigness of our risk assumption.
For Positional Traders, The Bank Nifty Futures' Trend Change Level is At 44200. Going Long Or Short Above Or Below This Level Can Help Them Stay On The Same Side As Institutions, With A Higher Risk-reward Ratio. Intraday Traders Can Keep An Eye On 44345, Which Acts As An Intraday Trend Change Level.
Intraday Trading Levels
Buy Above 44040 Tgt 44144, 44294 and 44444 (Bank Nifty Spot Levels)
Sell Below 43950 Tgt 43850, 43729 and 43610 (Bank Nifty Spot Levels)
Wishing you good health and trading success as always.As always, prioritize your health and trade with caution.
As always, it's essential to closely monitor market movements and make informed decisions based on a well-thought-out trading plan and risk management strategy. Market conditions can change rapidly, and it's crucial to be adaptable and cautious in your approach.