As discussed in Last Analysis Nse FInance again took support at 100 DMA and shoowed a bounce. Mars is in Libra from August 27-October 12, 2023. Mars is a plannet of energy and Hopefully it will give energy to either bULLS OR bears to get Nse FInance out of this range and lead to a trending move. DOJI formnation before an Astro event is always a good sign for a trending move. Also we are entering 5Week of the MOnthly expiry which generally leads to trending move.
Finance Nifty saw a decent bounce back today showing IMpact of Mars Ingress as shown in below video, Tommrow Uranus is turing Direct which could act volatlity in the Finance Nifty. Also we have "Bayer Rule 15: VENUS HELIOCENTRIC LATITUDE AT EXTREME AND LEAST SPEEDS FOR MAJOR MOVES Imp Rule" so expect a volatile move tommrow.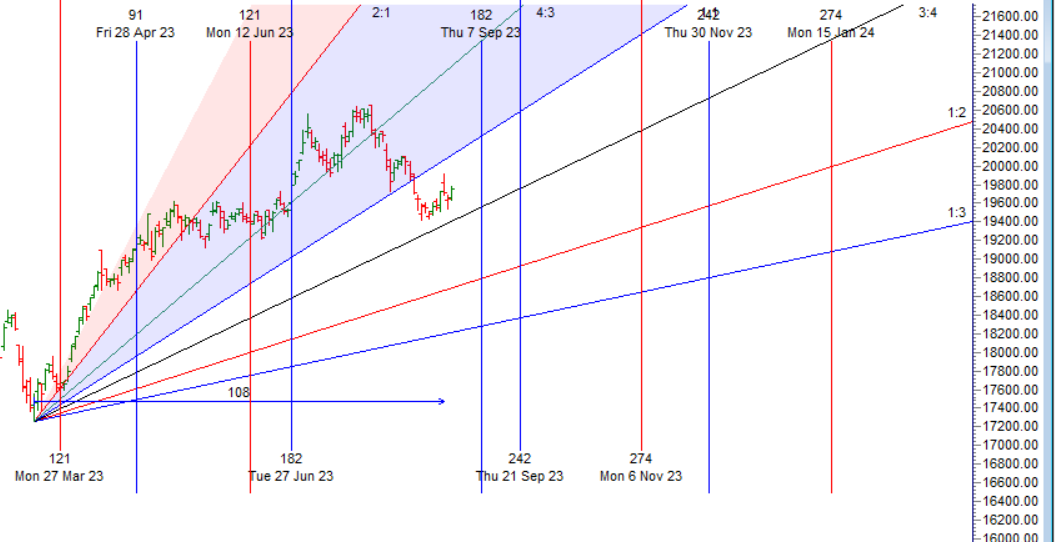 Finance Nifty Trade Plan  based on Astro Date ,Bulls will get active above 19800 for a move towards 19877/19956/20036. Bears will get active below 19638 for a move towards 19558/19478/19400.
 Traders may watch out for potential intraday reversals at 10:39,11:31,12:35,1:26,2:11 How to Find and Trade Intraday Reversal Times
Finance Nifty June  Futures Open Interest Volume stood at 55200 with liquidation of 12200 contracts. Additionally, the increase in Cost of Carry implies that there was a covering of SHORT positions today.
Finance Nifty Advance Decline Ratio at 15:04, Finance Nifty Rollover Cost is @20638
Finance Nifty has reacted from from 100 SMA @19550 for 5 time . MOre it touch the support weaker it will become, Any break of 19500 fast fall towards 19225/19050. 19828 is 20 SMA will act as resistance.
Traders who follow the musical octave trading path may find valuable insights in predicting Bank Nifty's movements. According to this path, Finance Nifty may follow a path of 20529-19953-19376 . This means that traders can take a position and potentially ride the move as Bank Nifty moves through these levels. Of course, it's important to keep in mind that trading is inherently risky and market movements can be unpredictable.  Price has reacted from 19953
According to the Finance Nifty options chain, the call side has the highest open interest (OI) at the 19800  strike, followed by the 19900  strike. On the put side, the 19700 strike has the highest OI, followed by the 19600 strike.  This indicates that market participants anticipate Finance  Nifty to stay within the 19600-19900 range.
The Finance Nifty options chain shows that the maximum pain point is at 19750  and the put-call ratio (PCR) is at 0.92 . Typically, when the PCR open interest ranges between 0.90 and 1.05, the market tends to remain range-bound.
Many people have a need to be right. That makes it difficult to quickly accept losses, and it makes it especially difficult to flip one's views. The best traders don't have a need to be right, and in fact they readily admit that there's many times they're wrong.
For Positional Traders, The Finance Nifty Futures' Trend Change Level is At 19944. Going Long Or Short Above Or Below This Level Can Help Them Stay On The Same Side As Institutions, With A Higher Risk-reward Ratio. Intraday Traders Can Keep An Eye On 19727 , Which Acts As An Intraday Trend Change Level.
Intraday Trading Levels for Finance Nifty
Buy Above 19800 Tgt 19825, 19864 and 19928 (Fin Nifty Spot Levels)
Sell Below 19745 Tgt 19706, 19671 and 19630 (Fin Nifty Spot Levels)
Upper End of Expiry : 19928
Lower End of Expiry : 19671
Wishing you good health and trading success as always.As always, prioritize your health and trade with caution.
As always, it's essential to closely monitor market movements and make informed decisions based on a well-thought-out trading plan and risk management strategy. Market conditions can change rapidly, and it's crucial to be adaptable and cautious in your approach.