NSE Finance has formed an NR21 days when gann and astro cycle are confluencing and be prepared for big move as explained in below video with Both Mercury which is Retrograde and Sun Changing Sign.
The NR21 pattern, as the name suggests, refers to a trading situation where the range of price movement over a specific period is exceptionally narrow. Specifically, the range should be the smallest within the past 21 trading sessions.
The significance of the number 21 lies in its representation of a trading month, considering the typical number of trading days. Traders use this period to identify the tightest range within which price has moved.
The NR21 pattern signifies a state of market compression, where volatility is notably reduced. This reduction in price range is often indicative of a period of indecision among traders.
We got the big move as per levels mentioned in NSE Finance, Bears  got stopped out and Bulls created an Outside bar pattern Now till price is above 19683 Bulls have upper hand towards 19881.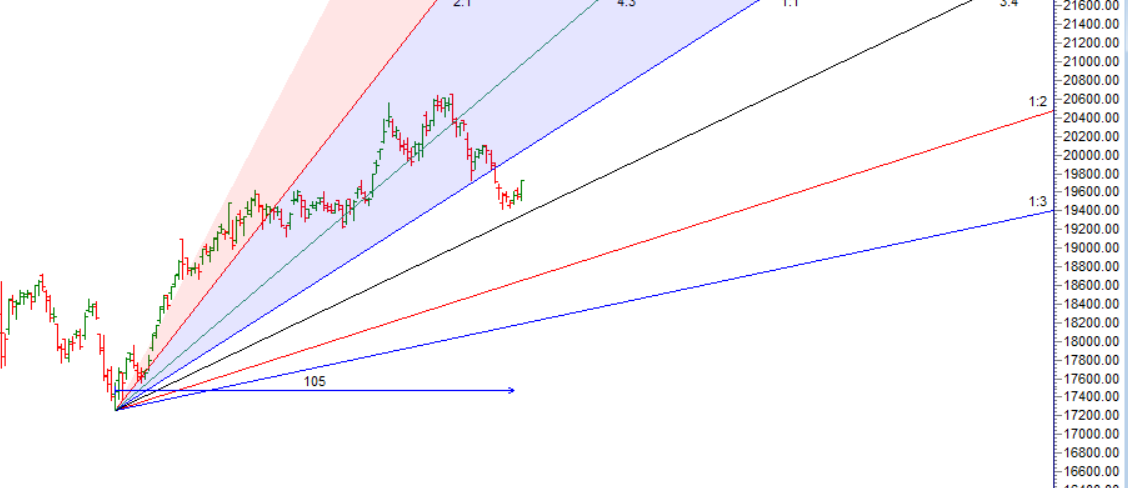 Finance Nifty Trade Plan  Bulls will get active above 19658 for a move towards 19722/19787/19852/19918. Bears will get active below 19527 for a move towards 19462/19397/19332/19267 — Waiting for 19787/19852/19918
 Traders may watch out for potential intraday reversals at 9:21,10:58,11:46,12:47,2:20 How to Find and Trade Intraday Reversal Times
Finance Nifty June  Futures Open Interest Volume stood at 91160 with liquidation of 19360  contracts. Additionally, the increase in Cost of Carry implies that there was a covering of SHORT positions today.
Finance Nifty Advance Decline Ratio at 16:04, Finance Nifty Rollover Cost is @20638
Finance Nifty has bounced from 100 SMA @19471, Till 19436 is held bounce towards 19900, Any break of 19450 fast fall towards 19225/19050
Traders who follow the musical octave trading path may find valuable insights in predicting Bank Nifty's movements. According to this path, Finance Nifty may follow a path of 20529-19953-19376 . This means that traders can take a position and potentially ride the move as Bank Nifty moves through these levels. Of course, it's important to keep in mind that trading is inherently risky and market movements can be unpredictable.  Price has bounced from 19376
According to the Finance Nifty options chain, the call side has the highest open interest (OI) at the 19700  strike, followed by the 19800  strike. On the put side, the 19600 strike has the highest OI, followed by the 19500 strike.  This indicates that market participants anticipate Finance  Nifty to stay within the 19500-19800 range.
The Finance Nifty options chain shows that the maximum pain point is at 19700  and the put-call ratio (PCR) is at 1.01 . Typically, when the PCR open interest ranges between 0.90 and 1.05, the market tends to remain range-bound.
One of the most important attributes of a professional trader is the willingness to accept full responsibility for one's actions. One can never improve if every mistake is the broker's, or the fault of the data vendor, or the software.
For Positional Traders, The Finance Nifty Futures' Trend Change Level is At 19978 . Going Long Or Short Above Or Below This Level Can Help Them Stay On The Same Side As Institutions, With A Higher Risk-reward Ratio. Intraday Traders Can Keep An Eye On 19632 , Which Acts As An Intraday Trend Change Level.
Intraday Trading Levels for Finance Nifty
Buy Above 19750 Tgt 19797, 19848 and 19895 (Fin Nifty Spot Levels)
Sell Below 19697 Tgt 19662, 19630 and 19585 (Fin Nifty Spot Levels)
Wishing you good health and trading success as always.As always, prioritize your health and trade with caution.
As always, it's essential to closely monitor market movements and make informed decisions based on a well-thought-out trading plan and risk management strategy. Market conditions can change rapidly, and it's crucial to be adaptable and cautious in your approach.