Foreign Institutional Investors (FIIs) displayed a Bullish approach in the Nifty Index Futures market by Buying 1555 contracts worth 153 crores, resulting in a increase of 1483 contracts in the Net Open Interest. FIIs bought 4472 long contracts and added 1958 short contracts , indicating a preference for adding LONG and adding SHORT positions .With FII Long Short Ratio @75.5 % FII's are heavily long in market , FIIs utilized the market rise to enter Long positions and enter short positions in NIFTY Futures.
Nifty gave an intraday rally made a new all time high  but once it started trading below 19523 gann level selling started to accelereate .Nifty is getting lot of Supply from upper side as seen in last 4 trading session price opens up see upmove in first session and gets sold off into 2 session, suggesting we are seeing Distribution on upper levels. Price is doing more of time correction rather than price correction. Momemtum will come on downside once we see a close below 19300. 
Nifty is still trading between Friday range on closing basis
Sun Sextile Uranus and Venus YOD Neptune Aspect imvolving Outer Plannets are happening on Weekend so next week we can see range expansion.– Got the perfect range expansion.
The movement of the Lunar Node to Aries signifies a potential decline in business activity below normal levels, so it is crucial to observe management commentary to understand future earnings prospects.

Nifty Trade Plan  Bulls will get active above 19720  for a move towards 19789/19589. Bears will get active below 19650 for a move towards 19581/18512/19442/19373
Nifty is near a crucial gann number of 19683 last time this number was at 19576 price did not close below this and gave a big rally, Next 2-3 days price action near 19683 is very important able to hold we can see rally towards 19881/20000. Break of 19600 fall towards 19410 in short term.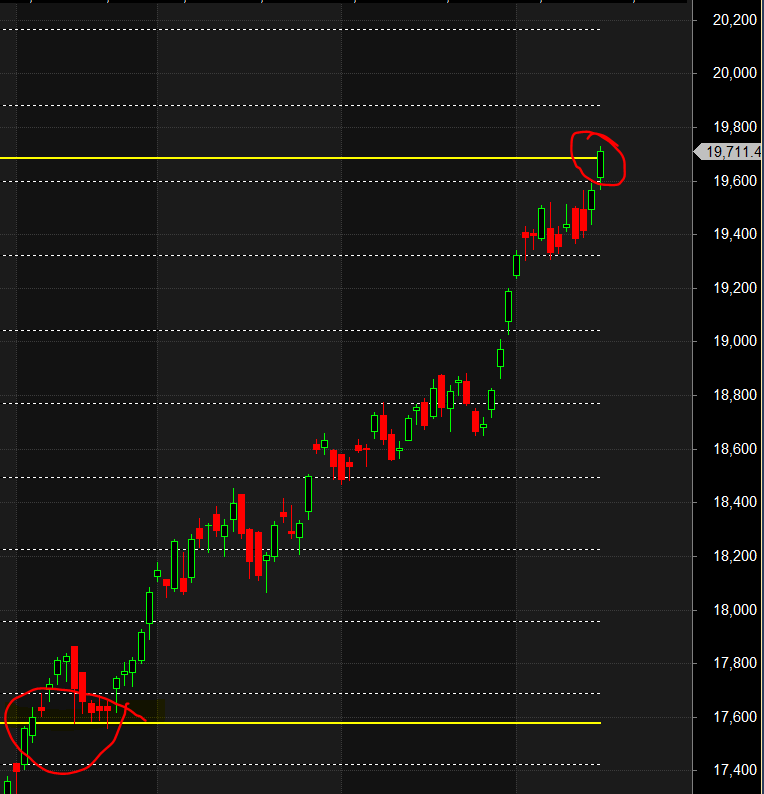 Traders may watch out for potential intraday reversals at 9:15,10:47,1:13,1:56,2:51  How to Find and Trade Intraday Reversal Times
Nifty July Futures Open Interest Volume stood at 1.08 lakh, witnessing a addition of 1.9 lakh contracts. Additionally, the increase in Cost of Carry implies that there was a addition of LONG positions today.
Nifty Advance Decline Ratio at 31:19  and Nifty Rollover Cost is @18884  and Rollover is at 69.7 %.
Nifty options chain shows that the maximum pain point is at 19600 and the put-call ratio (PCR) is at 0.96. Typically, when the PCR open interest ranges between 0.90 and 1.05, the market tends to remain range-bound.
Nifty 50 Options Chain Analysis
The Nifty 50 options chain indicates that the highest open interest (OI) on the call side is at the 19800 strike, followed by 19900 strikes. On the put side, the highest OI is at the 19700 strike, followed by 19600  strikes. This suggests that the market participants are expecting Nifty 50 to remain range between 19600-19800 levels.
According To Todays Data, Retailers Have bought 103 K Call Option Contracts And 207 K Call Option Contracts Were Shorted by them. Additionally, They bought 200 K Put Option Contracts And 162 K Shorted Put Option Contracts were covered by them, Indicating A BEARISH Outlook.
In Contrast, Foreign Institutional Investors (FIIs) bought 118 K Call Option Contracts And 60 K Call Option Contracts Were Shorted by them. On The Put Side, FIIs bought 299 K Put Option Contracts And 312 K Put Option Contracts were Shorted by them, Suggesting They Have Turned To A BULLISH Bias.
In the cash segment, Foreign Institutional Investors (FII) bought 73 crores, while Domestic Institutional Investors (DII) bought 64 crores.
Traders who follow the musical octave trading path may find valuable insights in predicting Nifty's movements. According to this path, Nifty may follow a path of 18890-19452-20014 This means that traders can take a position and potentially ride the move as Nifty moves through these levels.Of course, it's important to keep in mind that trading is inherently risky and market movements can be unpredictable.Price has closed below  19452.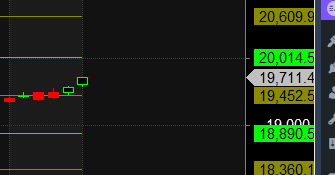 With every trade I imagine that this will be my worst trade ever. And I think about it beforehand, how much of my money I want to lose with it
For Positional Traders, The Nifty Futures' Trend Change Level is At 19438 . Going Long Or Short Above Or Below This Level Can Help Them Stay On The Same Side As Institutions, With A Higher Risk-reward Ratio. Intraday Traders Can Keep An Eye On 19668 , Which Acts As An Intraday Trend Change Level.
Intraday Trading Levels
Buy Above 19735  Tgt 19770, 19800  and 19848  (Nifty Spot Levels)
Sell Below 19690 Tgt 19650, 19610 and 19555  (Nifty Spot Levels)
Wishing you good health and trading success as always.As always, prioritize your health and trade with caution.