As Discussed in Last Analysis Price continue to trade around 1×1 gann angle and holding the 23 Feb Low. Swing Trader above 40000 can see move towards 40197/40396/40595. Bears will get active below 39799 for a move towards 39600/39444/39200/39000.
Price showed reversal sign with formation of Outside Bar and holding to Low of 23 Feb Low and  bounce from 1×1 angle now for confirmed reversal price has to move above 40400. We have Monthly Close tommrow so watch for 3 PM tommrow for a spike in bank nifty. On MOnthly time frame this will be 3 Red Candel.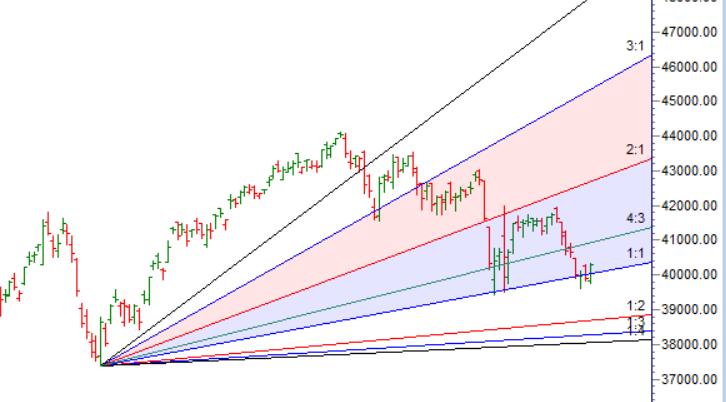 Swing Trader above 40412 can see move towards 40611/40809/41008. Bears will get active below 40214 for a move towards 40015/39816/39618.
Intraday time for reversal can be at  10:32/11:56/12:41/1:47/2:49 How to Find and Trade Intraday Reversal Times
Bank Nifty March Future Open Interest Volume is at 25.6 lakh with liquidation of 1.18  Lakh contract , with decrease in Cost of Carry suggesting Long  positions were closed  today.
Bank Nifty Rollover cost @40733 and 78.1 % rollover is done.
Price is stuck between 37.5-50-62.5 gann retracement.
Bank Nifty as per musical octave trading path can be  40289-40691-41096 take the side and ride the move !!
Maximum Call open interest of 35 lakh contracts was seen at 40500 strike, which will act as a crucial resistance level and Maximum PUT open interest of 38 Lakh contracts was seen at 40000 strike, which will act as a crucial Support level.
MAX Pain is at 40200 and PCR 0.56. Markets tend be range-bound when PCR OI (Open Interest) ranges between 0.90 and 1.05. 
One of the tactics of avoiding fear is to conduct due diligence before entering a trade by doing your analysis. Once that is done, let the trade run to maturity. Walk away from it if necessary and avoid watching EVERY TICK
For Positional Traders Trend Change Level is 40292 on Futures go long and short above/below it That will help you stay on the side of Institutions and which has a greater risk-reward ratio. For Intraday Traders 40344 act as a Intraday Trend Change Level.
Intraday Trading Levels
Buy Above 40400 Tgt 40512, 40729  and 40920 (Bank Nifty Spot Levels)
Sell Below 40222 Tgt 40108, 40000 and 39856 (Bank Nifty Spot Levels)
As always I wish you maximum health and trading success