Bank Nifty opened with gap up 15 mins low broken and fall started. It has been 7 days of decline but we are still in Budget day candel High and low. Price continue to trade around 1×1 gann angle and holding the 23 Feb Low.
As Lord Hanuman Himself had doubts and had to be reminded of his strength regularly, we mortals need to follow a "affirmation routine" on a regular basis and pep ourselves up.
The secret lies in keeping our emotions under wraps and acting professionally by increasing our consciousness levels. This is possible only if we do not allow ourselves to get carried away by news and sundries. "Water on a lotus leaf"(Non-attachment) – the one major thing I learnt in "Vivekananda Vidyalaya".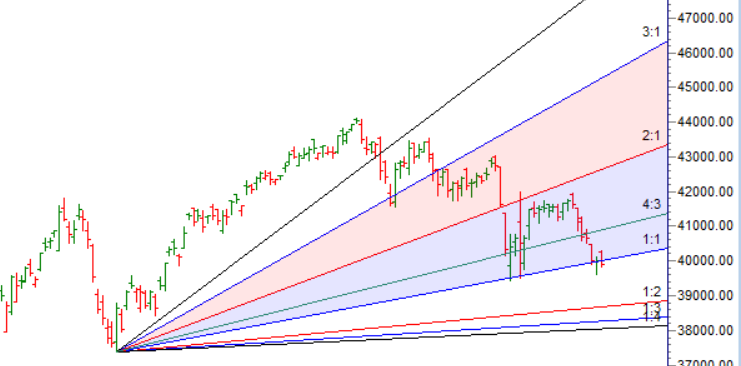 Swing Trader above 40000 can see move towards 40197/40396/40595. Bears will get active below 39799 for a move towards 39600/39444/39200/39000.
Intraday time for reversal can be at  9:15/10:36/11:54/12:36/1:37/2:39How to Find and Trade Intraday Reversal Times
Bank Nifty March Future Open Interest Volume is at 26.8 lakh with addition of 0.70 Lakh contract , with decrease in Cost of Carry suggesting Long  positions were addedtoday.
Bank Nifty Rollover cost @40733 and 78.1 % rollover is done.
Price is stuck between 37.5-50-62.5 gann retracement.
Bank Nifty as per musical octave trading path can be  39650-40049-40450take the side and ride the move !!
Maximum Call open interest of 25 lakh contracts was seen at 39500 strike, which will act as a crucial resistance level and Maximum PUT open interest of 38 Lakh contracts was seen at 40500 strike, which will act as a crucial Support level.
MAX Pain is at 40000 and PCR 0.56. Markets tend be range-bound when PCR OI (Open Interest) ranges between 0.90 and 1.05. 
One of the tactics of avoiding fear is to conduct due diligence before entering a trade by doing your analysis. Once that is done, let the trade run to maturity. Walk away from it if necessary and avoid watching EVERY TICK
For Positional Traders Trend Change Level is 40292 on Futures go long and short above/below it That will help you stay on the side of Institutions and which has a greater risk-reward ratio. For Intraday Traders 40344 act as a Intraday Trend Change Level.
Intraday Trading Levels
Buy Above 39970  Tgt 40025, 40150 and 40323 (Bank Nifty Spot Levels)
Sell Below 39808 Tgt 39702, 39496 and 39300 (Bank Nifty Spot Levels)
As always I wish you maximum health and trading success