FII sold 17.9 K contract of Index Future worth  1615 cores, Net OI has increased by 24.9 K contract 3.4 K Long contract were added by FII and 21.4 K Shorts were added  by FII. Net FII Long Short ratio at 0.21 so FII used rise to enter Long and enter short in Index Futures.
On 28 Jan we had Bayer Rule 27: Big tops and big major bottoms are when Mercury's speed in Geocentric longitude is 59 minutes or 1 degree 58 minutes., So till 29 Jan Low 17405 we are heading upside. Watch for 3 PM candel tommrow for a SPIKE in Price.We have monthly close tommorow and Bank Nifty 17777-17800 zone.
As disucssed in below video we have seen many top and bottom formation 1-2 days before and after budget. If Nifty sustains above 17804 we can see a move of 18025, 18025-18070 is very crucial range any close above it can lead to big short covering. On Downside Break of 17529 can lead to fall towards 17274/17012.

Plan for Nifty Union Budget 2023 based on Ratio Indicator 
Long above 17717 for a move towards 17842/18009/18155/18271
Short Below 17396 for a move towards 17271/17104/16958/16843
MAX Pain is at 17750 PCR at 0.98 Markets tend be range-bound when PCR OI (Open Interest) ranges between 0.90 and 1.05. 
Maximum Call open interest of 90 lakh contracts was seen at 18000 strike, which will act as a crucial resistance level and Maximum PUT open interest of 50 lakh contracts was seen at 17500 strike, which will act as a crucial Support level
Nifty Feb Future Open Interest Volume is at  1.05 Cr with addition of 0.39 Lakh with increase in Cost of Carry suggesting Long positions were added today.
Nifty Rollover cost @18169 and Rollover % @75  Closed below it. 
Retailers have sold 438 K CE contracts and 359 K shorted CE contracts were covered by them on Put Side Retailers bought 61 K PE contracts and 104 K shorted  PE shorted contracts were covered by them suggesting having neutral outlook.
FII bought 15 K CE contracts and 9.2 K shorted CE were covered by them, On Put side FII's sold 10.8 K PE and 12.4 K PE were shorted by them suggesting they have a turned to neutral Bias.
FII's sold 5439 cores and DII's bought  4506 cores in cash segment.INR closed at 81.60
#NIFTY50  as per musical octave trading path can be 17538-17804-18072 take the side and ride the move !!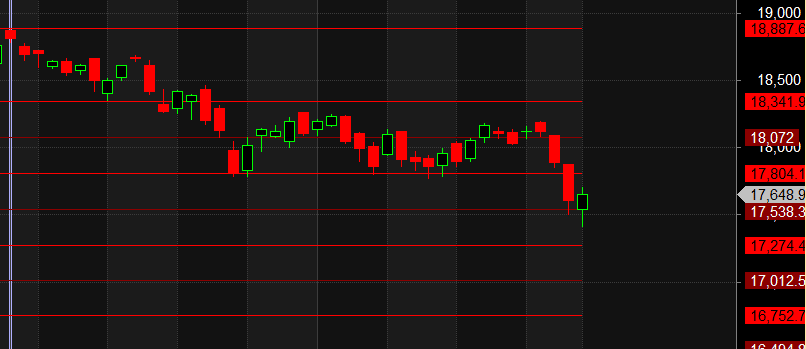 No amount of study or practice can make one successful in the handling of capital if one really is not cut out for it.
Positional Traders Trend Change Level is 17802  on Futures go long and short above/below it That will help you stay on the side of Institutions and which has a greater risk-reward ratio. Intraday Traders 17742 will act as a Intraday Trend Change Level.
Intraday Trading Levels
Buy Above 17752 Tgt 17843, 17950  and 18025 (Nifty Spot Levels)
Sell Below 17636 Tgt 17554, 17447 and 17356 (Nifty Spot Levels)
As always I wish you maximum health and trading success