FII sold 17 K contract of Index Future worth  1607 cores, Net OI has decreased by 241 contract 8.3 K Long contract were covered by FII and 8.6 K Shorts were added  by FII. Net FII Long Short ratio at 0.22 so FII used rise to exit  Long and enter short in Index Futures.
On 28 Jan we had Bayer Rule 27: Big tops and big major bottoms are when Mercury's speed in Geocentric longitude is 59 minutes or 1 degree 58 minutes., So till 29 Jan Low 17405 we are heading upside. Watch for 3 PM candel tommrow for a SPIKE in Price.We have monthly close tommorow and Bank Nifty 17777-17800 zone.

Plan for next 2 session based on Ratio Indicator 
Long above 17717 for a move towards 17842/18009/18155/18271
Short Below 17396 for a move towards 17271/17104/16958/16843
MAX Pain is at 17750 PCR at 0.94 Markets tend be range-bound when PCR OI (Open Interest) ranges between 0.90 and 1.05. 
Maximum Call open interest of 17 lakh contracts was seen at 17800 strike, which will act as a crucial resistance level and Maximum PUT open interest of 16 lakh contracts was seen at 17400 strike, which will act as a crucial Support level
Nifty Feb Future Open Interest Volume is at  1.04 Cr with liquidation of 4.76 Lakh with increase in Cost of Carry suggesting Long positions were closed today.
Nifty Rollover cost @18169 and Rollover % @75  Closed below it. 
Retailers have bought 307 K CE contracts and 329 K CE contracts were shorted by them on Put Side Retailers bought 497 K PE contracts and 415 K PE shorted contracts were added by them suggesting having Bearish outlook.
FII bought 13.7 K CE contracts and 38 K shorted CE were covered by them, On Put side FII's bought 44.8 K PE and 22.4 K PE were shorted by them suggesting they have a turned to neutral Bias.
FII's sold 6792 cores and DII's bought  5512 cores in cash segment.INR closed at 81.60
#NIFTY50  as per musical octave trading path can be 17799-18066-18336 take the side and ride the move !!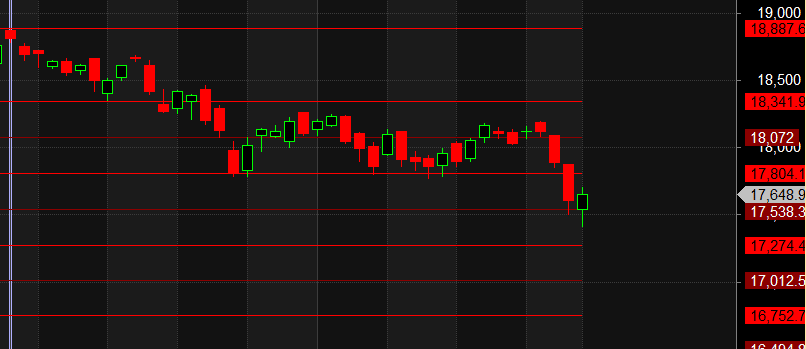 Review the last week's entries in your trading journal. Count the number of positive, encouraging phrases in your writings and the number of negative, critical ones. If the ratio of positive to negative messages is less than one, you know you aren't sustaining a healthy relationship with your inner coach. And if you're not keeping a journal, your coach is silent. What sort of relationship is that?
Positional Traders Trend Change Level is 17823 on Futures go long and short above/below it That will help you stay on the side of Institutions and which has a greater risk-reward ratio. Intraday Traders 17685 will act as a Intraday Trend Change Level.
Intraday Trading Levels
Buy Above 17666 Tgt 17700, 17743 and 17777 (Nifty Spot Levels)
Sell Below 17618 Tgt 17587, 17557 and 17512 (Nifty Spot Levels)
As always I wish you maximum health and trading success