FII sold 13.6 contract of Index Future worth  1309 cores, Net OI has increased by 10.3 K contract 1.6 K  Long contract were covered by FII and 11.9 K Shorts were added by FII. Net FII Long Short ratio at 1.01 so FII used fall to exit Long and enter short in Index Futures.
We have seen impact of Mercury Retrograde and Bayers Rule as discussed in below video, price has os facing resistance at Gann angle as shown in below chart. We have Weekly/Monthly/Quaterly/Yearly closing tommrow, Price need to close above 18387-18444 range for a Bullish start for 2023.
Wishing you all a Very Happy and Prosperous New Year
Nifty Bulls again failed to close above 50 SMA  and Mercury Retrograde High, Now Again we have Bayer Rule coming on 02 Jan Bayer Rule 27: Big tops and big major bottoms are when Mercury's speed in Geocentric longitude is 59 minutes or 1 degree 58 minutes.
First 15 mins HIgh and Low will guide for the day.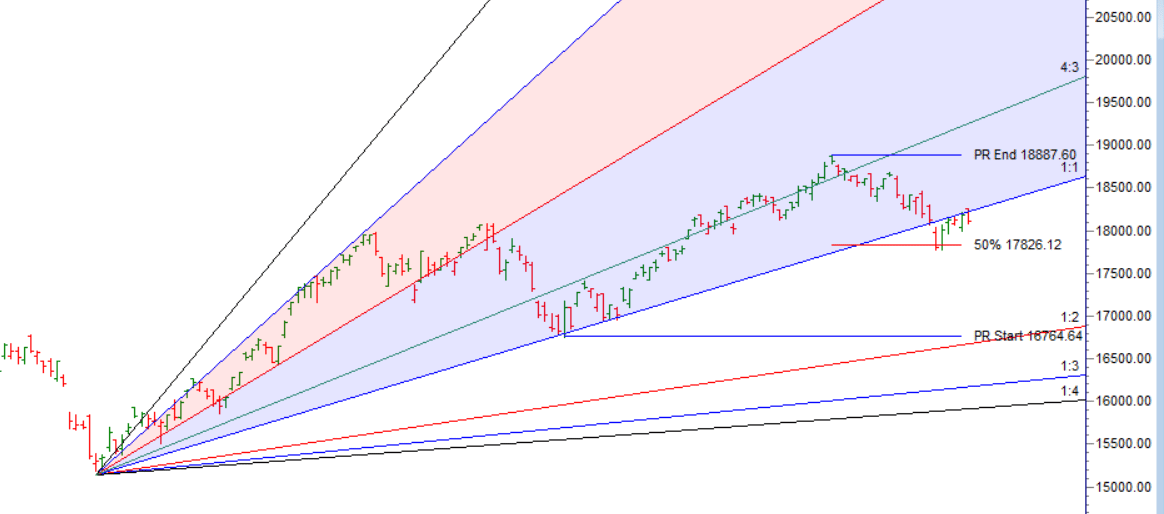 Nifty Astro Plan based on Intraday Ratio Calculator. 
Waiting for price to go back again above 18182  for Bulls to be active. Bears below 18058 target as mentioned. 
MAX Pain is at 18200 PCR at 1.05 Markets tend be range-bound when PCR OI (Open Interest) ranges between 0.90 and 1.05. 
Maximum Call open interest of 12 lakh contracts was seen at 18300 strike, which will act as a crucial resistance level and Maximum PUT open interest of 12 lakh contracts was seen at 18100 strike, which will act as a crucial Support level
Retailers have bought 191 K CE contracts and 162 K CE contracts were shorted by them on Put Side Retailers bought 63.5 K PE contracts and 105 K PE shorted contracts were added by them suggesting having BULLISH outlook. FII bought 48.3 K CE contracts and 39.9 K CE were shorted by them, On Put side FII's bought 36.9 K PE and 10.8 K PE were shorted by them suggesting they have a turned to neutral Bias.
Nifty Jan Future Open Interest Volume is at  1.06 Cr with addition of 1.2 Lakh with increase in Cost of Carry suggesting Long positions were added today.
Nifty Rollover cost @18178 and Rollover % @72.5  Closed above it. 
Till Nifty is above 18061 on closing basis  price can rally till 18275/18414
FII's sold 2950 cores and DII's bought 2266 cores in cash segment.INR closed at 81.89
#NIFTY50  as per musical octave trading path can be 17799-18066-18336 take the side and ride the move !!
Trading is serious business with real money on the line. Why would you go into it without a well-thought-out plan of action? Yet, most people do.
Positional Traders Trend Change Level is 18230 on Futures go long and short above/below it That will help you stay on the side of Institutions and which has a greater risk-reward ratio. Intraday Traders 18283 will act as a Intraday Trend Change Level.
Intraday Trading Levels
Buy Above 18127 Tgt 18156, 18185 and 18225 (Nifty Spot Levels)
Sell Below 18066 Tgt 18033, 18000 and 17970 (Nifty Spot Levels)
As always I wish you maximum health and trading success