Tommrow we have Mercury Ingress and Today we have Venus Ingress Both moving in Sagittarius, As per W D Gann Double ingresses (when two or more planets, not counting the Moon, enter a new sign within two consecutive days) market tend to see big move. Bank Nifty is making Higher High, Always Remmber Market follow path of least resistance Mind and heart will say lets short as Bank Nifty has rallied 4000 points without major correction but till the system do not  give signal aviod shorting else money will be lost. Either wait on sideline or be long till we do not close below previous day low.
Another sideways day with bank nifty forming NR7 pattern on astro date suggesting big move will be seen either tommrow or on Monday.
For Swing Trade Bulls need to move above 42532 for a move towards 42737/42941/43146. Bears will get active below 42209 for a move towards 42003/41796/41590. 
Intraday time for reversal can be at 9:38/10:28/11:14/12:32/1:23/2:17 How to Find and Trade Intraday Reversal Times
Bank Nifty Nov Future Open Interest Volume is at 23.9 lakh with liquidation of 2.2 Lakh contract , with increase in Cost of Carry suggesting Long positions were closed today.
Till Bank Nifty is above 42219 on closing basis  Bulls will have upper hand. Bank Nifty had the lowest volume for the series.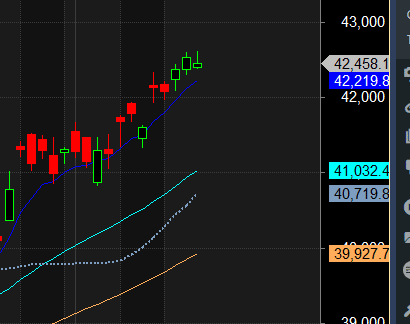 Bank Nifty as per musical octave trading path can be  40518-41724-42929  take the side and ride the move !!
Maximum Call open interest of 32 lakh contracts was seen at 43000 strike, which will act as a crucial resistance level and Maximum PUT open interest of 22 lakh contracts was seen at 42000 strike, which will act as a crucial Support level.
MAX Pain is at 42500 and PCR @0.92 . PCR below 0.95 and above 1.3 lead to trending moves, and in between leads to range bound markets.
Consider establishing some trading rules that can help you snap out of it when emotion comes into play. Of course, different rules apply to different traders depending on their trading strategies and goals, but some general ones can be applied in many situations.
For Positional Traders Trend Change Level is 41817 on Futures go long and short above/below it That will help you stay on the side of Institutions and which has a greater risk-reward ratio. For Intraday Traders 42560 will act as a Intraday Trend Change Level.
Intraday Trading Levels
Buy Above 42500 Tgt 42610, 42729 and 42854  (Bank Nifty Spot Levels)
Sell Below 42323 Tgt 42225, 42085 and 41970 (Bank Nifty Spot Levels)
As always I wish you maximum health and trading success