FII sold 12 K  contract of Index Future worth 1092 cores, Net OI has increased by 8.4 K contract 1.7 K Long contract were covered  by FII and 10.2 K Shorts were added  by FII. Net FII Long Short ratio at 0.52 so FII used rise to exit  long and enter short in Index Futures.
As Discussed in Last Analysis
First 15 MIns High and Low will guide for the day. FOMC Decision will come on Tommrow Night so carry overnight position with Hedge.
SP500
has rallied each of the four times that the Fed hiked rates this year. On March 16, May 4, June 15 and July 27, the S&P 500 rallied 2.2 per cent, 3 per cent, 1.5 per cent and 2.6 per cent.. As Gann says History Repeat by Itself lets see what happens today.
For Swing Traders Bulls will get active above 17825 for a move towards 17891/17957/18000/18057. Bears will get active below 17651 for a move towards 17584/17517/17450
Intraday time for reversal can be at 9:15/9:52/11:01/12:14/1:00/2:36  How to Find and Trade Intraday Reversal Times
MAX Pain is at 17800 PCR at 0.86 PCR below 0.78 and above 1.3 lead to trending moves, and in between leads to range bound markets.
Maximum Call open interest of 52 lakh contracts was seen at 17800 strike, which will act as a crucial resistance level and Maximum PUT open interest of 45 lakh contracts was seen at 17600 strike, which will act as a crucial Support level
Nifty Sep Future Open Interest Volume is at 1.01 Cores with liquidation of 1.98 Lakh with increase in cost of carry suggesting Long positions were closed today.
Nifty rollover cost @ 17655 and Rollover @76.6 % Closed above the rollover level suggesting bias is Bullish
FII's sold 461 cores and DII's bought  538 cores in cash segment.INR closed at 79.81 
Retailers have bought 459 K CE contracts and 379 K CE contracts were shorted  by them on Put Side Retailers sold  326 K PE contracts and 239 K PE shorted contracts were added by them suggesting having Bullish outlook.
FII bought 52.4 K CE contracts and 75.2 K CE were shorted by them, On Put side FII's bought 36.1 K PE and 15.2 K PE were shorted by them suggesting they have a turned to neutral Bias.
#NIFTY50 READY for another 500 points move as per musical octave 18595 – 18058 -17551 take the side and ride the move !!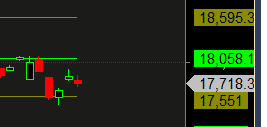 When we increase the size of our positions, a funny thing happens. We usually begin to lose money. And a lot of it. It all depends on how you increase your size. Weight lifters gradually put more iron on the bar. They donít suddenly go from one hundred to three hundred pounds. They go in small increments. Our minds are very much like muscles. They can handle only a gradual increase in the risk that we assume in the market. Too sudden a shift in risk size disturbs our equilibrium and sense of the marketís ebbs and flows.
Positional Traders Trend Change Level is 17740 on Futures go long and short above/below it That will help you stay on the side of Institutions and which has a greater risk-reward ratio. Intraday Traders 17758 will act as a Intraday Trend Change Level.
Intraday Trading Levels
Buy Above 17777 Tgt 17816, 17848 and 17898 (Nifty Spot Levels)
Sell Below 17699 Tgt 17666, 17633 and 17600 (Nifty Spot Levels)
Upper End of Expiry : 17910
Lower End of Expiry : 17551 
As always I wish you maximum health and trading success