FII sold 3.5 K contract of Index Future worth 340 cores, Net OI has increased by 2.3 K contract 597 Long contract were covered by FII and 2.9 K Shorts were added by FII. Net FII Long Short ratio at 1.36 so FII used RISE to EXIT longs and ENTER shorts.
As discussed in Last Analysis   We held on to gann angles for 3 day in a row. As per our Astro analysis today high and low will be important till 29 Oct. Bulls need to move above 18179 for a move towards 18246/18314. Bears will get active below 18044 for a move towards 17977/17910/17843. 

We had a perfect bounce fro angel and a

s Discussed in Twitter above 18169 we did 2 targetes now waiting for

18372/18440/18508 till we are holding 18237. Lunar Cycle played an important role in todays Rise. Bears will have chance below 18199 for a move towards 18141/18068.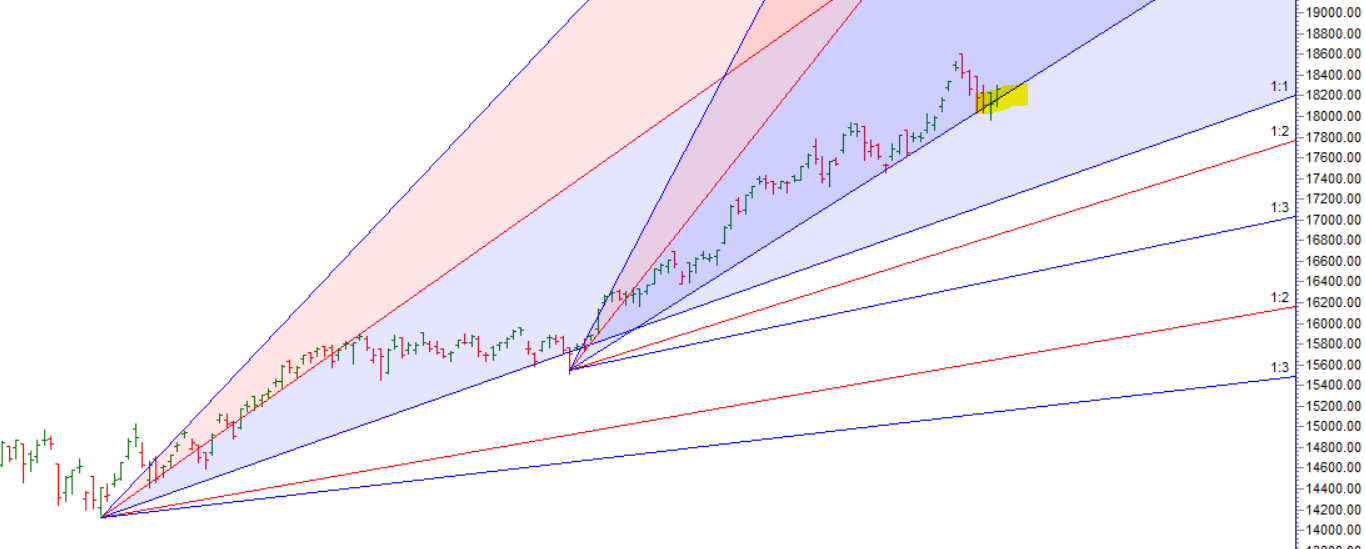 MAX Pain is at 18200 PCR at 0.79.

Max Pain Level is rising every day which means Bulls are in Control.
Nifty Dec Future Open Interest Volume is at 0.48 Cores with addition of 17.4 Lakh with decrease in cost of carry suggesting LONG positions were added today.
There is total OI of 9.04 Cores on the Call side and 7.9 Cores on the Put side, So, the activity is more on the CALL side, indicating option writers are still  in Bearish zone.
The Option Table data indicates decent support at 18100 and reasonable resistance at 18400.
It is important to note that DII have stepped up their equity buying in the last 4 days. Otherwise the damage could have been more severe. Now, whether DII are buying the equities as an opportunity or as a compulsion is what will determine the next course of action. DII bought 1385 cores in Equity.
DII have been buying equities during the week. Add, the high equity selling yesterday by FII indicate that we are closer to the bottom. ( I go with premise that equity cycle is a delayed FnO cycle – and high activity in equities generally indicate culmination of that particular cycle.),FII sold 2368 cores in Equity.
Retailers have sold 47 K CE contracts and 44 K CE contracts were shorted by them on Put Side Retailers bought 148 K PE contracts and 123 K PE contracts were shorted by them suggesting having BEARISH outlook,On Flip Side FII sold 5.4 K CE contracts and 14.6 K shorted CE were covered by them, On Put side FII's bought 23  K PE and 30.2 K PE were shorted  by them suggesting they have a turned to BULLISH Bias.
For Positional Traders Stay long till we are holding Trend Change Level 18025 and stay short below it. That will help you stay on the side of Institutions and which has a greater risk-reward ratio. For Intraday Traders 18207 will act as a Intraday Trend Change Level.
Buy Above 18310 Tgt 18343, 18385 and 18424 (Nifty Spot Levels)
Sell Below  18247 Tgt 18212, 18180 and 18141 (Nifty Spot Levels)
As always I wish you maximum health and trading success