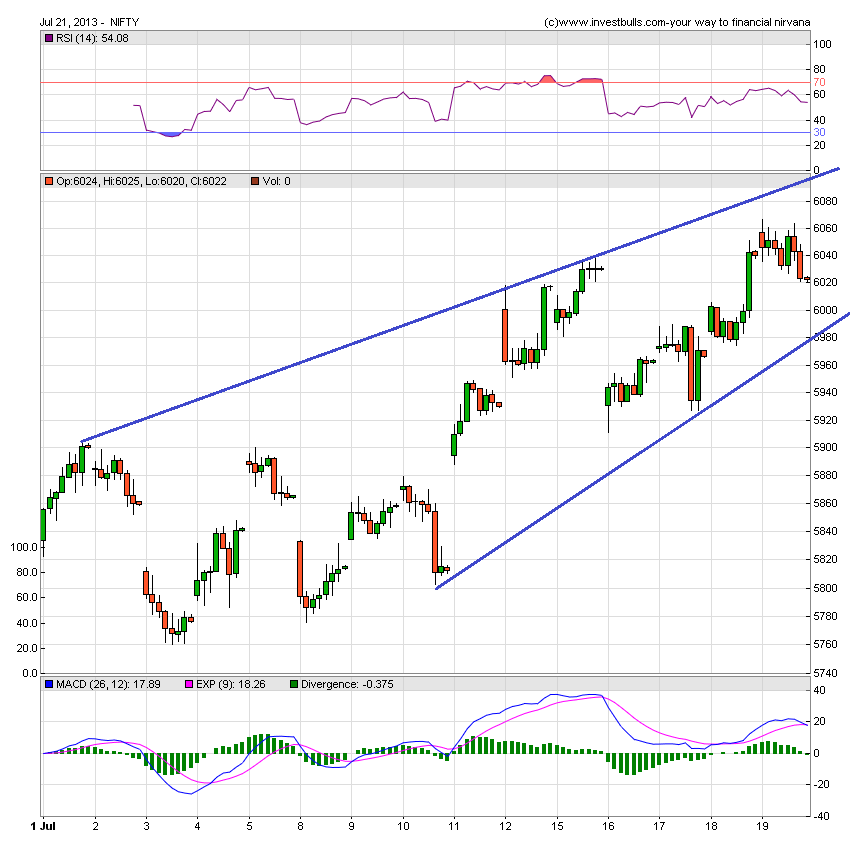 It was another Topsy turfy show by the market last week. RBI surprise with increase in interest rate 130 points gap down and slow and steady recovery in later half of week .The benchmarks held on to higher levels and moved in a tight range even as the swirl of negatives led by weak rupee and deteriorating macro numbers did their best to dislodge them.
Last week we gave Trend Deciding level as 6028 Nifty  Nifty achieved 1 target on  on upside, Lower targets were done by gap down but it was not a tradeable move.
 Nifty Hourly Chart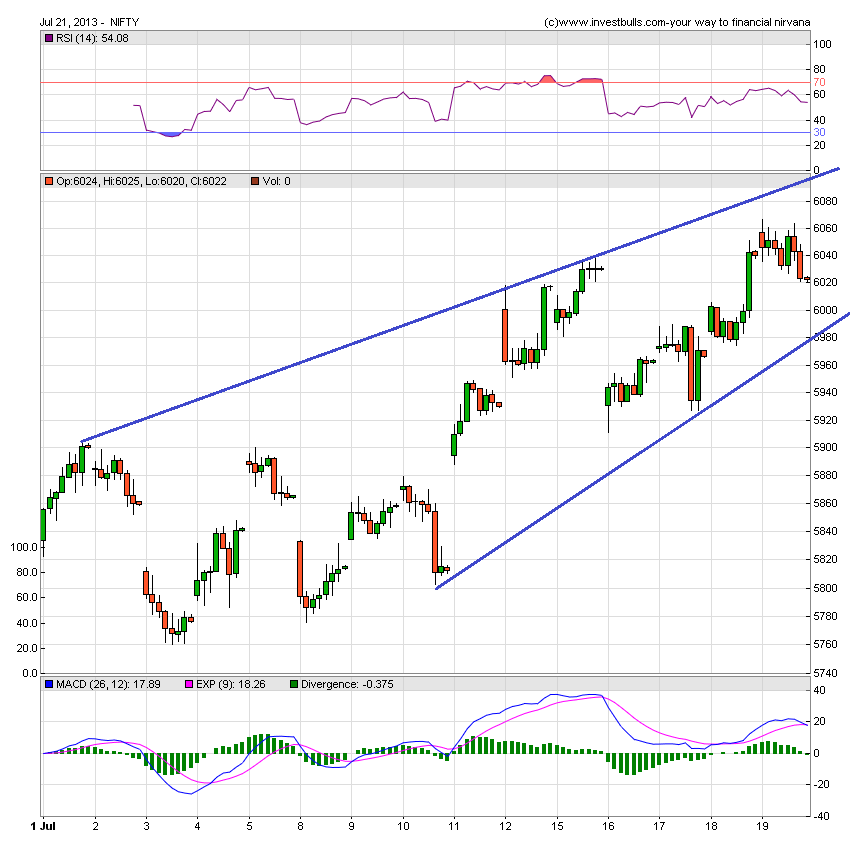 Nifty Hourly charts trading in a channel and upper end of channel comes at 6080 and lower end at 6001. Any break of it we will see a 60-80 points follow up move.
 Nifty Gaps

For Nifty traders who follow gap trading there are 1 trade gaps in the range of  5400-6000 and all other gaps got filled.
5848-5857
5588-5630
5682-5749
5816-5887
Nifty Daily Chart
Nifty has formed a triangle pattern and breakout comes above 6077 for target of 6155 in short term.
As per of Fibo Retracement theory Nifty is trading above 61.8% retracement range from 5566-6229 which is a bullish sign, and is now approaching the next important level of 6087. We need to hold above 6077-87  for next 2 days to confirm the bullishness.

Nifty Fibonacci fan are wonderful tool to find the top and bottom in short term.Nifty was unable to break above the 3X8 line of Fibo fans and longs should be cautious at higher level. As per Nifty Chopad levels close above 6077 will only be a booster for bulls
Nifty Weekly Chart
Nifty closed the week forming  Spinning top candlestick pattern  with gain of 20 points @6029.Weekly charts are on verge of making a decisive move and traders should be prepared for action packed expiry week ahead.
Monthly charts are approaching the higher end of trendline WIll it breakout this time next few sessions will tell us.

 Nifty Trading Levels
Nifty Trend Deciding Level:6077

Nifty Resistance:6120,6155 and 6207

Nifty Support:6001,5946 and 5896
Levels mentioned are Nifty Spot
Stock Performance sheet for June Month is updated on http://tradingsystemperformance.blogspot.in/ 
Let me go by Disclaimer these are my personal views and trade taken on these observation should be traded with strict Sl
Want to see post in your Inbox,Register by adding your email id in Post in your Inbox section
Follow on Facebook during Market Hours:  https://www.facebook.com/pages/Brameshs-Tech/140117182685863