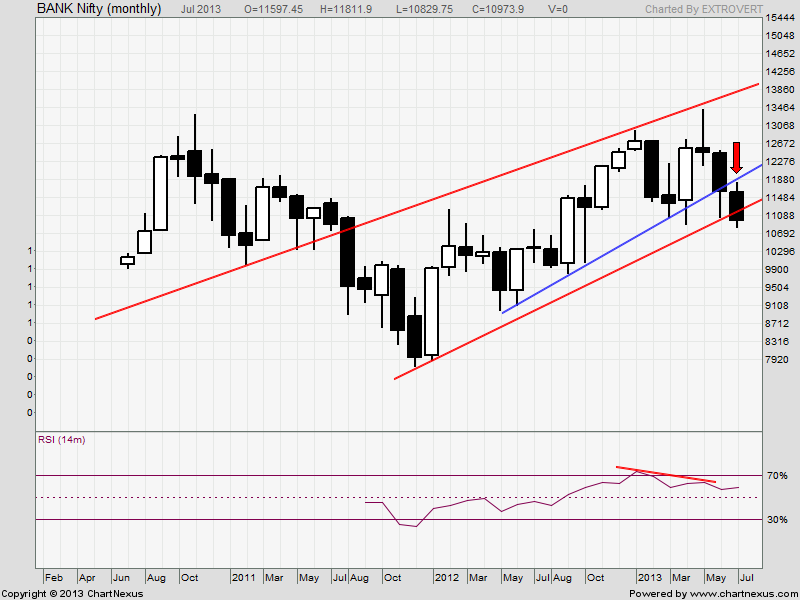 RBI Governor shocked the market participants on Monday evening with increase in Interest rate to stabilize the rupee. Weekly Trend Deciding level of 11792 High made was 11812 and than collapsed to achieved all weekly target. Cool 600 Points pocked by positional traders in matter of 2 days :). Lets see How Bank Nifty Technical are faring out for expiry week.
Bank Nifty Hourly
Bank Nifty on hourly chart after sharp fall last week is entering in a trading range of 11264-10850.
Bank Nifty Daily
Bank Nifty is taking support at gap area of 10797 as shown in below chart.Technical chart have been totally decimated and all relief rallies are getting sold into.Weekly closing below 11000 is again a sign the downtrend is still in place.Any close below 10800 will push bank nifty further to 10200-10400 range where again gap stands.
Bank Nifty Fibo Fans
Fibo Fans has been applied on Bank Nifty weekly charts Bank Nifty is consolidating near  2X8 line of Fibo fans, from past 3 weeks signalling big move is round the corner.This is what we discussed last week and market oblized us with a 800 points down move. Follow the price you will catch the trend 🙂 Now next fibo fans target looks scary and lets not talk about it for time being.
 Bank Nifty Fibo Retracement
As per Fibo theory 11188 is 61.8% retracement of 13420-9818.We have closed below 11188 on weekly basis which gives next target of 10577. Closing below 11417 for coming week will spell trouble for bulls and we can see Bank Nifty in sub 1100 in coming week and trading above The same we had discussed last week and market oblized us 🙂
Bank Nifty Weekly
Bank Nifty on WoW basis was down by 749 points and closed at 10974, Bank Nifty finally broke  its falling trendline. Now next important supply zone has been shown in above chart.
Bank Nifty Monthly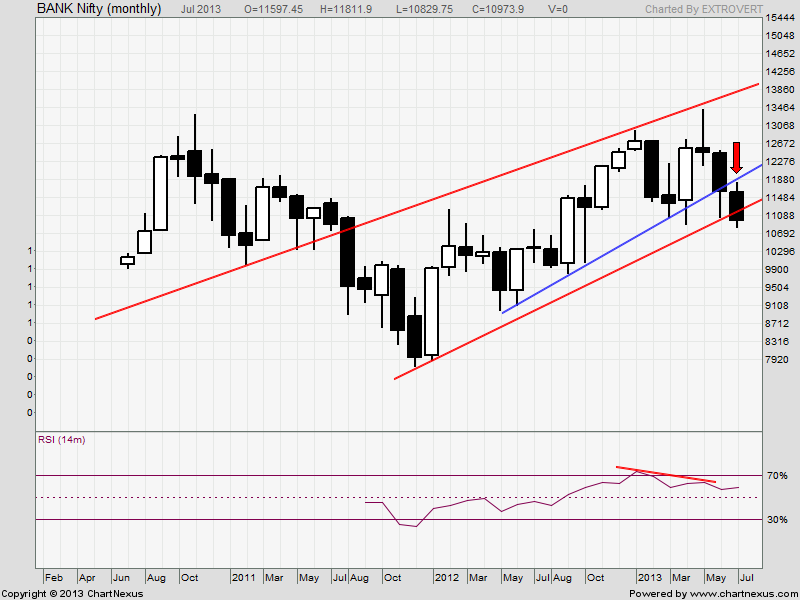 Monthly charts have closed below the medium term trendline, Still 8 trading days left for monthly closing, so bulls still have chance for come back and close above the trendline.
 Bank Nifty Trading Levels
Bank Nifty Trend Deciding Level:10946

Bank Nifty Resistance:11179,11323 and 11556

Bank Nifty Support:10713,10569 and 10336
Levels mentioned are Bank Nifty Spot
Let me go by Disclaimer these are my personal views and trade taken on these observation should be traded with strict Sl
We do discussion is Live market to update Nifty levels If you are interested you can LIKE the page to get Real Time Updates.
Follow on Facebook during Market Hours:  https://www.facebook.com/pages/Brameshs-Tech/140117182685863