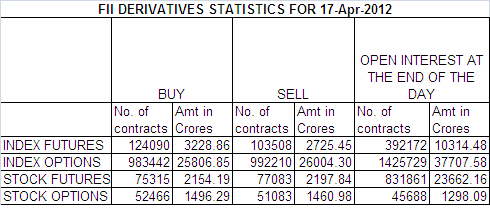 Below is my Interpretation of FII OI data Sheet for 17-Apr-12.
1. FII  bought 20582  Contracts of NF worth 503.41 cores OI also increased  by 17768.Surprise Rate cut of 50 BPS is a welcome booster for Bulls. Listless market which was lacking triggers got a boost of liquidity from RBI
2. As Nifty Futures was up  by 71 points and OI has increased  by 17768, ie.Rise in Price with Rise in Open Interest,Fresh longs were added by FII.
3. Nifty  closed above 20SMA@5260 first sign of strength next trigger being  and 50 SMA@5339. Above 50 SMA Bulls rule and trend becomes stronger. Looking at FII data seems tomorrow we should move above 5339
4.Trading range is still active 5380-5221. Also as discussed in weekly analysis trend will move down only below 5178 Nifty made a low of 5182 and bounced back almost 100 points.
5. Trendline which we have been discussing from past 1 week resistance comes at 5310. Also we can see a falling wedge formation which is a bullish pattern. All we need a close above 5344 for the pattern to show its true color.
6. Nifty April   OI has increased   by 7.7 Lakhs .Total OI stands at 1.77  cores  contracts.Fresh Longs addition by traders
7. Total F&O turnover was highest in April series 1.67 lakhs  Cores  with total contract traded at 4.89 lakh .High volume day after long time accompanied by rise which gives more support to bullish stance.
8. 5400 CE added 3.4  lakhs in OI,total OI now stands at 78 Lakhs making it the higher end of April Series.5100-5300 CE saw an unwinding of 2.3lakh in OI which means smart money is betting on Nifty to go higher.
9. On Put side 5200 PE is having highest OI of 74 lakhs with a fresh addition of 10 lakhs.5200 base which looked like will break is again back this time with more conviction . 5000-5100 PE added 11 lakhs in OI Put writing happening at lower levels again a bullish indication.
10.FII  bought  441 cores and DII sold  213 cores in cash segment.
11. Nifty Futures Trend Deciding level is 5260, Trend Changer at 5284 NF (Above this Level Bulls will rule Nifty/Below this levels Bears have upper hand).Average Traded price for FII comes at 4891 which is way way below today traded price of 5221 which means FII have carries huge longs and tommrow we might either see a gap up opening or fast upmove after market opens up.
Buy above 5306 Tgt 5322,5344 and 5385

Sell below 5264 Tgt 5249,5230 and 5207(Nifty Spot Levels)
Note:Tomorrow session will be quiet volatile and would request market participants to avoid trading if you cannot handle volatility and trade in less quantity as fast move can take away your stop loss. Money saved in money earned.
Disclaimer: These are my personal views and trade taken on these observation should be traded with strict Sl
We do discussion is Live market to update Nifty levels If you are interested you can LIKE the page to get Real Time Updates.
Follow on Facebook during Market Hours:  http://www.facebook.com/pages/Brameshs-Tech/140117182685863
You can register your email address under Post In your Inbox(Right Side Column) if you want to receive mail instantaneously as soon as site get updated. You will receive a confirmation mail in your registered email address you need to click on link to get it confirmed.