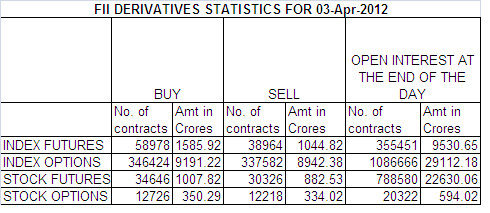 Below is my Interpretation of FII OI data Sheet for 04-Apr-12.
1. FII  bought  20014  Contracts of NF worth 541 cores OI also increasing  by 1464 contracts.

2. As Nifty Futures was up  by 32 points and OI has increased  by 1464 ,which basically means small quantity of longs were added  by FII.
3. Nifty  closed above 20SMA@5295 which is bullish sign.Also closed above 5325 which is 50 SMA,closing above 20 and 50 SMA make it bullish in short term.
4. Nifty today's close had an important significance let me share the same with below 2 charts
Downward trending trendline comes at 5387 if tops of 5630,5500 are joined and today's high was 5378 on Nifty Spot.Also Nifty was unable to break the recent swing high of 5385 on 23 march both of which signify longer should lighten up and at least book partial profits.
5. Fibo traders were sellers today as they pushed Nifty to close below 61.8% retracement from 5135-5500. Nifty spot closed at 5358 unable to close over golden ratio 61.8% @5361.
6. I have been talking about the range of 5221-5370 NF based on Rollover data, look at today's high on NF it is at 5372 and it reacted decisively with 40 points quick fall.Litmus test failed at 5370. Fresh longs should be taken above 5372 NF only.(This is what we analyzed yesterday)Today NF closed at 5384 which basically means Bulls have won the game, but only concern is lower volumes, So lets wait for 1 more day to get further confirmation of a close above 5370

7. Nifty April   OI has decreased   by 98600 .Total OI stands at 1.89  cores  contracts.Long Liquidation was seen in NF.

8. FII OI for April Series 1.89 cores again on lower side in recent months

9. Total F&O turnover was 72K  Cores  with total contract traded at 246240 is which is one of the lowest in past 30 trading sessions,As tomorrow is the last trading day for the week Thursday and Friday being  holiday trading interest is lost among big players.
10. VIX has collapsed to 20.01 this was the reason why Nifty is trading in a small spread of 20 points.Option Writers also risk to reward is low as VIX is almost at lower end of range.
11. Equity volumes saw a good increases today with total volume traded at 7080 lakhs shares. Shall we assume this as distribution by smart money on higher level?

12. 5600 CE is having highest OI of  45  Lakhs with fresh addition of 4.8 lakhs. 5400 CE is having 38 lakhs in OI and saw a mild reduction of 28K contracts even though nifty was unable to cross 5400. Looks like weak hands are exiting the positions.
13. 5200 and 5300 PE showed an addition of 5,1 lakhs and 3.4 lakhs in OI.
14. 5000 PE having highest OI of 54  lakhs but with fresh addition  of 1.62 lakhs.
15. Today FII were buyers 332 Cores and DII were also buyers worth 200 cores. Last 2 instances when both were buyers Nifty were up by 80 points  and corrected by 94 points so tomorrow being weekly closing except some good move.
16. Nifty Futures Trend Deciding level is 5362, Trend Changer at 5311 NF (Above this Level Bulls will rule Nifty/Below this levels Bears have upperhand).

Buy above 5360 Tgt 5385,5411 and 5445

Sell below 5342 Tgt 5321,5308 and 5280(Nifty Spot Levels)

Let me go by Disclaimer these are my personal views and trade taken on these observation should be traded with strict Sl
To Get Real Time  update on  Nifty during market hours  you can LIKE  the page.
Follow on Facebook during Market Hours:  http://www.facebook.com/pages/Brameshs-Tech/140117182685863