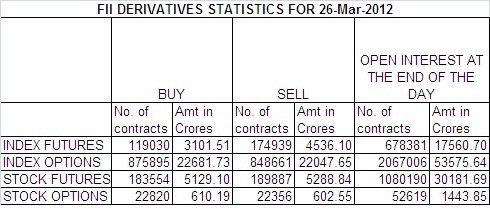 Below is my Interpretation of FII OI data Sheet for 26-Mar-12.
1. FII  sold 55909  Contracts of NF worth 1435 cores OI also increasing  by43783 contracts.

2. As Nifty Futures was up down by 94  points and OI has increased by 43783  contracts means  institutions have added  Nifty Future shorts. Nifty did a move of 70 points in first 30 min and after that consolidated and gridded in a range for throughout the day. AS we mentioned on Sunday analysis FII are carrying shorts and effect was seen in Opening hours only.
3. Nifty  broke the 50 SMA convincingly  today making the case for short term bearish trend. Only saving grace 200 SMA @5154. Till Nifty is trading above this level bulls still have a chance for Pullback.

4. Nifty March  OI has decreased   by 12   lakh .Total OI stands at 2.15 cores  contracts. 12 lakh shorts got rollovered to April Series
5. The bounce we were seeing in NF from 5190 odd levels and selling pressure from 5223 NF  was due to Rollover pressure. March Nifty was bought and April NF were sold into.
6. Roll Over have started with April NF adding 21.6 lakhs in OI basically meaning shorts are getting rollovered from March to April. April NF OI is 1 cores . 9 lakh fresh shorts were added in April Series . 5225 April NF becomes an important level.
7. Equity volumes were sub duded today  coming to 6917 lakh.With a fall on 94 points equity volumes were low.
8.Total F&O turnover was  1.76  Lakh  Cores  with total contract traded at 447938 .We broke 5200 NF on closing basis but volumes are not great can be case of false breakdown.

9. In equity FII sold  135 cores surprisingly  DII  sold 200  cores. Heavy FII selling in both Futures and Equity is because of the confusion over general anti-avoidance rules (GAAR). If this gets implemented the Marutius P Notes will be under threat. GOI will not implement such policy which can deter FII investments which are the need of the hour.

10. 5500 CE is having highest OI of  68  Lakhs . 5400 has becomes the ceiling of the market.
11. 5100 PE having highest OI of 92  lakhs with fresh addition  of  18 lakh. Now base of 5200 seems to be in trouble and Bulls has started shorting 5100 PE. 5200 PE saw an unwinding of 17 lakh OI stands at 68 lakhs. All in not lost but  5200 is under threat now.
12. FII has bought 634 cores in Options with India VIX going up by 14%. Average Option Buy price comes at 5179 and Average Option sell price at 5195. So buying is done at lower strike price and 5100 seeing an addition of 18 lakhs suggests smart money has bought 5100 PE. This gives an indication if 5154 breaks we might expire at sub 5100 levels.Tomorrow action will give the further clues
13. Nifty Futures Trend Deciding level is 5177, Trend Changer at 5362 NF (Above this Level Bulls will rule Nifty/Below this levels Bears have upperhand). Fast Points were made in Opening trade as soon as 5263 got breached on NF,Always keep an Eye on Trend deciding level

 Buy above 5211 Tgt 5254,5274 and 5300

Sell below 5170 Tgt 5150,5130 and 5080
Let me go by Disclaimer these are my personal views and trade taken on these observation should be traded with strict Sl
To Get Real Time  update on  Nifty during market hours  you can LIKE  the page.
Follow on Facebook during Market Hours:  http://www.facebook.com/pages/Brameshs-Tech/140117182685863