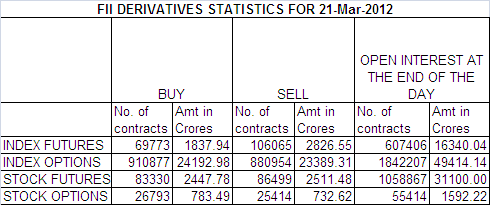 Below is my Interpretation of FII OI data Sheet for 21-Mar-12.
1. FII  sold  36292  Contracts of NF worth 988.63 cores OI also decreasing  by 5324 contracts.

2. As Nifty Futures was up by 97  points and OI has decreased by 5324  contracts means  institutions have booked profit  Nifty Future shorts. Now question arises they have sold contracts worth 988 cores which gives conflicting signal, I will give benefit of doubt to more shorts adding at higher levels
3. Nifty  50SMA@5265, I have been mentioning from past 3 days till Nifty does not close below 50 SMA medium term trend will not turn bearish. Nifty today went till 50 SMA and than we saw the big bang bounce almost 100 points up.
4. Nifty after budget day ie. 16 march has closed above 20 SMA@5346. Till it trades above this level bulls are in control.
5. Nifty March  OI has decreased   by 6   lakh .Total OI stands at 2.52 cores  contracts. Shorts are getting covered at lower levels.
7. Equity volumes did pick up today coming to 7734 cores. Equity volumes needs to be on higher side for market to move up .
8.Total F&O turnover was  1.50  Lakh  Cores  with total contract traded at 392165 .Up days Volumes are more and down day its less basically meaning big boys are more interested on long side . Follow the Big boys to be on right side of market.
9. In equity FII bought  622 cores did aggressive buying DII sold  294  cores.

10. 5600 CE is having highest OI of  60  Lakhs with 1.38 lakh unwinding. Fresh unwinding was  seen in 5300 and 5400 CE of 7.2 and 4.1 lakh each. Net OI stands at 37 lakh and 55 lakh each. 5400 CE OI needs to be watched closely tomorrow.
11. 5200 PE having highest OI of 78  lakhs with fresh addition  of  28K. 5200 seems to be a firm base.Dips near 5200. Traders on Facebook page  took longs around 5280 and made some 50 points. Patience and Trust in system is Key to success
12. Nifty Futures Trend Deciding level is 5380, Trend Changer at 5376 NF (Above this Level Bulls will rule Nifty/Below this levels Bears have upperhand).
Buy above 5374 Tgt 5400,5424 and 5447
Sell below 5328 Tgt 5300,5274,5252(Nifty Spot Levels)
Let me go by Disclaimer these are my personal views and trade taken on these observation should be traded with strict Sl
To Get Real Time  update on  Nifty during market hours  you can LIKE  the page.
Follow on Facebook during Market Hours:  http://www.facebook.com/pages/Brameshs-Tech/140117182685863