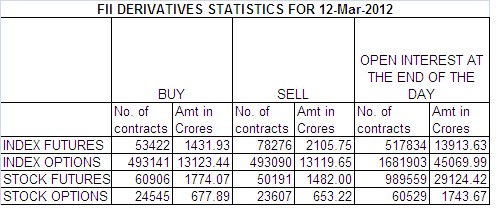 Below is my Interpretation of FII OI data Sheet for 12-Mar-12.
1. FII  sold  24854  Contracts of NF worth 674 cores OI also decreasing  by 4252 contracts.

2. As Nifty Futures was up by 24  points and OI has decreased by 4252  contracts means  profit booking on  longs was done by institutions.
3. Today we Opened with a Gap of 80 Points and quickly got sold off  and after better than IIP data 6.8% Nifty use this to fall further and fill the gap.
4. Another Interesting aspect is the Golden Crossover of 50/200 DMA which is about to take place and considered a Bullish signal and trend reversal sign. 
But always remember the SMA should be allinged in increasing order ie.
20 SMA>50SMA>100 SMA>200 SMA for long term uptrend.
If we have a close look at Nifty chart 100 SMA is still lower than 200 SMA so Golden Cross will not have bullish significance till 100 SMA moves above 200 SMA
5. Today Nifty was again unable to close above 20 SMA. Till Nifty does not close above 20 SMA as also mentioned in Weekly View on Nifty 5410-5455 is the range which needs to be closely watched for breakout. Today we got a chance to short in Opening and made some quick points as 5420 was the supply zone.
6. Nifty March  OI has decreased   by 2.3  lakh .Total OI stands at 2.49 cores  contracts.Profit booking on Longs was visible
7.Total F&O turnover was  92 Lakh  Cores  with total contract traded at 321651 and we saw n increase in equity turnover at 14 K cores .
8. In equity FII bought  1298 cores DII bought  203 cores. Both FII and DII were buyer. Are they getting ready for Pre Budget rally?

9. 5600 CE is having highest OI of  53  Lakhs seems with fresh addition of 2 Lakh contracts 5200 PE having highest OI of 76 lakhs with addition of 3 lakhs.
10. 5400 looks like laxman rekha for bulls with 20 DMA @5398 and 5400 CE having OI of 45 Lakhs and 5400 PE OI being 39 lakhs with fresh addition of 5 lakhs.Tough fight going on between CE and PE writers.
11. 5900 CE saw a surpirse addition of 10 lakhs in OI with premium being 5 rs Is it smart money or Speculative money betting on this?
12. Nifty Futures Trend Deciding level is 5374 at Trend Changer at 5369 NF (Above this Level Bulls will rule Nifty).
Today as per FaceBook page comments longs were intitated at NF Trend Deciding level at 5345 and same turn out to be the low and we made almost 40 points of that trade.
 Buy above 5400 Tgt 5420,5455 and 5475
Sell below 5352 Tgt 5327,5292 and  5275 (Nifty Spot Levels)
Let me go by Disclaimer these are my personal views and trade taken on these observation should be traded with strict Sl
To Get Real Time  update on  Nifty during market hours  you can LIKE  the page.
Follow on Facebook during Market Hours:  http://www.facebook.com/pages/Brameshs-Tech/140117182685863